Brian Harding shows racing remains a sport for all ages

By Cornelius Lysaght
BBC horse racing correspondent
Last updated on .From the section Horse Racing39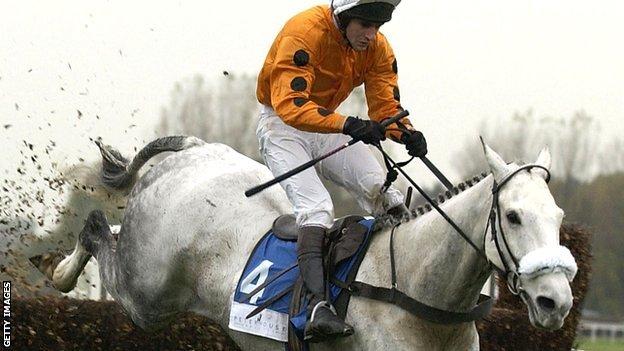 While veteran pundit John McCririck insists ageism is alive and well in the racing media, there are no such concerns in the jockeys' changing room.
Few riders have made more of an impact on the current jumps season than the elder statesman of the northern circuit, 40-year-old Brian Harding.
More than two decades since he arrived in Britain from his native Ireland, Harding finds himself affectionately dubbed "Benjamin Button" by admiring colleagues.
"In the film with Brad Pitt, Button gets younger with age," said one, "and Brian's just the same. You think you can surely beat a guy who's been around as long as him, but it's not easy."
Cumbrian-based Harding is on course for his best seasonal total in more than 10 years, a tally swelled by three winners in one day for the first time, at Sedgefield in December, and four doubles.
"It's great," he said, "and I'm obviously enjoying it, being a bit older than most of the lads.
"Ten years ago, I'd have maybe said I wouldn't be riding now, but I don't feel any different - fit as a fiddle in fact.
"The treble was great, as I've always been freelance, tipping away here and there, so it's harder to get three like that, and it was brilliant things came together that day."
Before he got too carried away, however, the qualified mentor to six young jockeys added: "I was lucky though. One of them was gifted when another horse fell, 15 lengths clear, at the last."
The British Horseracing Authority scheme in which junior riders are "jockey-coached" by their seniors remains at the pilot stage, but more and more youngsters are taking it up.
Harding, from the same County Cork village as champion jockey-turned-trainer Jonjo O'Neill, has much to impart.
Having started his career on Ireland's pony racing circuit, he graduated to the Flat until rising weight forced a further switch to the jumps with trainer Gordon W. Richards.
Memorably, Harding's biggest success came on Richards's popular grey One Man, in the Cheltenham Festival's Queen Mother Champion Chase in 1998.
However, he will also tell his proteges about coping with the harsh realities of racing, having been on board the same horse when he lost his life in a fall barely two weeks later.
Harding said: "We have a chat about everything. I might go schooling, and I'm on the ground watching them and their horses jump, and we go through it all afterwards.
"I'm sure it's a good thing because there are less and less opportunities for the young lads coming through, and they need to be well prepared to try to get what they can."
Encouraged as he is by his pupils' responses, Harding has no intention of conceding anything else, just yet.
He said: "As long as I'm happy and enjoying it, I'll keep going. My wife and daughters aged 12 and 13 take a bit of supporting.
"As the senior man in the north, I have the closest peg to the door [of the jockeys' changing room], like I'm the next one out, but I hope it'll be a while yet."