Big Zeb: 2010 Queen Mother Champion Chase winner retired
Last updated on .From the section Horse Racing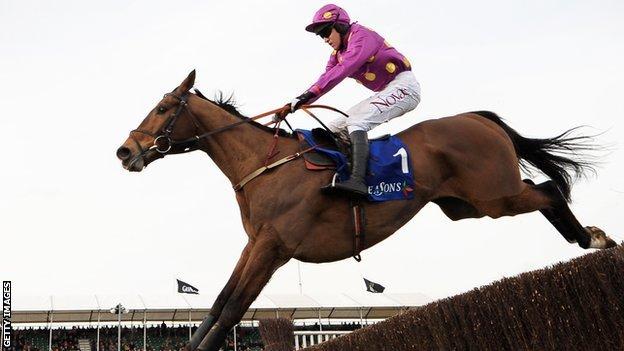 Big Zeb, the horse that won the 2010 Queen Mother Champion Chase, has been retired due to injury.
Trainer Colm Murphy took the decision after the 12-year-old failed to recover from problems with his joints.
Big Zeb finished fourth out of five in his last race, the Dial-A-Bet Chase at Leopardstown on 27 December.
"It's a pity, but unfortunately he's had a few niggly problems - he didn't come out of Leopardstown as well as we'd hoped." Murphy said.
Big Zeb won 13 of his 33 starts and finished second in a further 11 races, winning over £813,000 in prize money.
"His joints are troubling him a little bit. He deserves his retirement now," Murphy said.
"The decision was made for us. We gave him a bit of time, but he still hadn't responded to treatment so we are retiring him for his own sake.
"He has been so good to us so it's the right thing to do."
Murphy believes that Big Zeb's win over Master Minded to take the Queen Mother Champion Chase at Cheltenham in March 2010 was the high point of a career that lasted almost seven years.
"Winning the Champion Chase at Cheltenham would have to be the highlight. He's been good and Leopardstown was lucky for him as well," he said.
"We had many good days but the Queen Mother was the icing on the cake."
Murphy expects Big Zeb to spend his retirement in County Wexford in Ireland.
"I imagine he'd go home to his owner Pat Redmond. He has his own place not too far from here near Gorey," he said.