Sir Henry Cecil and Frankel both in good fettle

By Cornelius Lysaght
BBC horse racing correspondent
Last updated on .From the section Horse Racing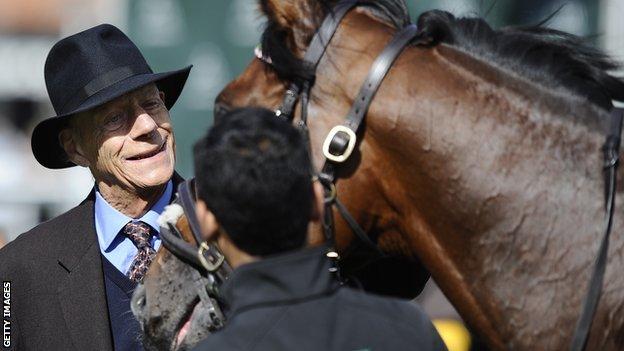 Sir Henry Cecil says he is "raring to go" for the upcoming Flat racing season, the first in four years without world champion Frankel at his Newmarket stables.
Cecil's fortitude in guiding Frankel, while battling cancer, to become quite likely the best racehorse ever has been as much a part of the story as the colt's unbeaten career itself.
The iconic 10-time champion trainer has described how the success of Frankel, now retired to stud after winning 14 races from 14 starts, and the public's backing were a real boost to him.
Those supporters were stunned at witnessing how frail medical treatment has left Cecil, 70 in January, with his famously distinctive voice severely weakened.
However, things now seem to be improving, and in an interview for Starstudded, BBC 5 live's programme to mark the start of Frankel's stallion career, I found Cecil in upbeat form.
Although the voice is still dimmed, he explained: "I'm picking up the whole time now. I had a lovely holiday, doing nothing for three and a half weeks, in Dubai and I'm getting my energy back, putting on weight and raring to go.
"It [2012] was a difficult year. I found it more pressure really, trying to be there for him [Frankel] when I wasn't feeling very well.
"Your treatment and everything, while you're working, makes it very hard."
We were chatting at Banstead Manor Stud, part of the Juddmonte thoroughbred breeding empire, set in 370 acres, not far from Newmarket or the A14, but strikingly peaceful.
Like Frankel, Juddmonte is owned by Saudi prince Khalid Abdullah, and, in November, Banstead Manor became the colt's new home.
A total of 135 mares are being lined up for the hottest property in world breeding, valued at way more than £100m, to cover (mate with) during the five month season, which starts this week.
Twenty four of them are owned by Juddmonte itself, and 15 more by their regular business partners at Ireland's Coolmore Stud, while the rest come from literally all over the world.
Each one has been carefully selected on pedigree and ability.
For the chance to access the genes of Frankel, a son of the brilliantly potent stallion Galileo and grandson (on his mother's side) of the outstanding Danehill, the fee is £125,000.
The next highest priced new stallion in Britain in 2013, Nathaniel - beaten by Frankel on their only two meetings - is £20,000.
Philip Mitchell, Juddmonte's general manager, and a key figure in the operation for 25 years, has been sifting through all the applications.
He told me: "He would have the best book of mares any first-season stallion has ever received.
"A lot of the mares are for owner/breeders who will race their progeny. We want to try not to have too many going to the sales-ring to ensure a level of exclusivity.
"There have been about 250 applications, 60 for Group One race-winning mares, or mares which have produced a Group One winner, so the bar is pretty high."
Among those to make the cut are top level winners Dar Re Mi, owned by Lord Lloyd-Webber, and the German-trained 2011 Prix de l'Arc de Triomphe winner Danedream.
Patiently standing in his box, next door to prolific fellow Juddmonte stallion Oasis Dream, Frankel is blissfully unaware of all the fuss.
He moved here in November, and with a change in diet and regime, has been transformed from a racehorse into a stallion.
By the look of him, he is thriving too, under the care of Rob Bowley, who describes it as an "honour and a privilege" to look after the world's most sought-after stallion.
"He's doing well," he said. "When he arrived, he was 550 kilos, and last time we weighed him he was 583, so he's put on a substantial amount."
Standing back for a moment to admire the physique of his new charge, Bowley, who walks him seven miles every day, added: "He enjoys his food, and he's got the frame, and he's putting it on in all the right places, his quarters and his flanks.
"You get a lot of horses who put a lot of weight on all at once, and they tend to put it round their belly and they just look fat, but everything about him is a lovely horse."
As of this week, and, it is hoped, for many years to come, Frankel will be taken three times daily to the nearby covering unit.
In the shadow of two rows of Ginkgo trees, symbols of fertility in Japan and China, placed there by the previous owners, he will become the world's most expensive gigolo.
It all starts on Valentine's Day, but Mitchell describes the process as 'functional… not four-poster', apparently to the horror of a TV producer who scrapped plans for an early evening news bulletin feature.
Ironically, for a horse whose very best odds during his 14-race winning spree were 7-4, with the shortest 20-1 on, there is no certainty of success as a stallion.
Regardless of whether or not he passes on his brilliance, no one can be sure he will even be "up for it", although Mitchell sends us on our way with a knowing smile.
"He's showing all the right inclinations and everything we've seen about this horse is that he's a total professional at whatever he does, and he delivers," he said.
The owners of mares worldwide will be hoping so.
Starstudded is on BBC Radio 5 live on Thursday 14 February at 19:30 GMT