Jockey Martin Dwyer faces Indian inquiry after Ice Age defeat
Last updated on .From the section Horse Racing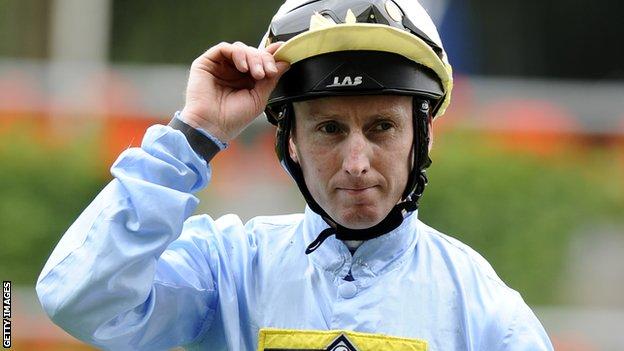 British jockey Martin Dwyer faces an inquiry on 17 March by Indian horse racing stewards after his odds-on favourite mount came third in Mumbai.
Racegoers reacted angrily after Dwyer, 36, failed to lead Ice Age to victory in Sunday's final race at Mahalaxmi.
The Royal Western India Turf Club stewards called an inquiry and declared Ice Age as a non-starter, before announcing all bets would be refunded.
Dwyer is "confident" he will be "exonerated of any wrongdoing".
The jockey snatched up on his mount after Ice Age drifted towards the rail and bumped eventual runner-up Always Smiling in the closing stages of the Division One of the Ice Magic Plate.
"The horse was disqualified because on preliminary inquiry, it appeared that the horse was not run fairly," said RWITC chairman Khushroo Dhunjibhoy. "An inquiry against the concerned jockey has been instituted."
In a statement issued through the Professional Jockeys Association on Friday, Dwyer said: "Whilst I categorically deny the allegation made against me by the stewards of the Royal West India Turf Club that I did not allow Ice Age to race on her merits, I welcome the decision of director general of police Raj Khilnani to involve himself in proceedings and that he will be in attendance at the hearing.
"I am confident that I will be exonerated of any wrongdoing, due to the simple fact that I am entirely innocent of the allegations as is clearly made evident by the video of the race alone."
The RWITC originally scheduled the hearing for Sunday and the jockey's agent Simon Dodds claimed the horse had suffered a medical problem.
"Martin dismounted the horse shortly after the line because he felt something wasn't right," he said.
"He's done the right thing because the vets found that the horse bled quite heavily from the nose. And I believe the horse actually wobbled a bit after the race as well.
"There was a small bit of interference from his horse to one of the others and he might get a suspension for that but it should be minimal, if anything."