Kauto Star too old for Rio 2016, says GB Eventing chief

Last updated on .From the section Horse Racing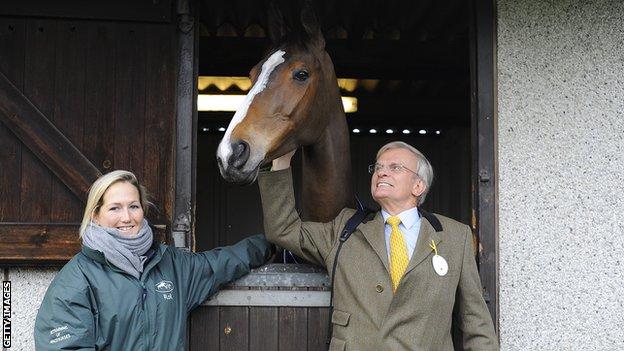 Kauto Star will not compete in the dressage at the 2016 Rio Olympic Games.
"It takes four to five years to bring horses up to Olympic standard," British Eventing chief Yogi Breisner said.
"The fact he's starting out at 12 means he's simply going to be too close to retirement age by the time he has had a chance to get that education."
He added: "It would be far too much to ask of any horse to come out of racing at that age and make it to Olympic standard."
Breisner said Kauto Star would take part in a dressage demonstration event at Newbury racecourse on Saturday.
"Dressage works different muscles - he works in a different balance to a racehorse," continued the GB Eventing performance manager, who was in charge of the successful London 2012 team.
"What he can do is have a very happy, good semi-retirement doing something that is less strenuous than racing. Maybe he will compete on a novice level doing the basic dressage movements, and if he does I am sure he'll do very well.''
Meanwhile, Kauto Star's owner Clive Smith has paid close attention to the horse's progress. Ahead of the Cheltenham festival, which starts on 12 March, he said the right decision had been made not to give Kauto Star one final run in the Gold Cup.
"Obviously I'll be going to Cheltenham in a couple of weeks or so," he said.
"Dressage seems very interesting, certainly for me, but I'm sure Kauto's enjoying it as well because he's an intelligent horse.
"He's learning something new. He's smart and he doesn't need to be told too many things more than once."