Cheltenham: Derek Thompson on racing, Shergar, Sheikhs & cancer
By Frank Keogh
BBC Sport at Cheltenham
Last updated on .From the section Horse Racing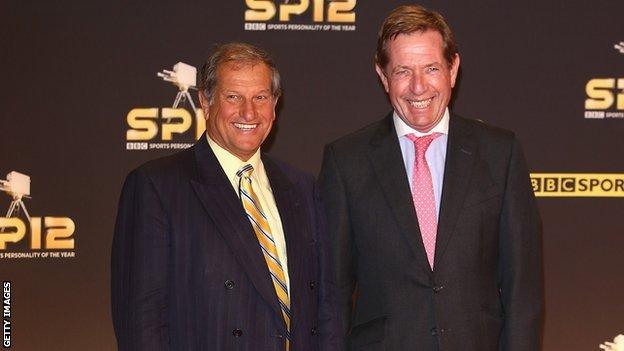 Ebullient racing broadcaster Derek Thompson has twice thought he might be about to die - once, facing masked gunmen during the Shergar kidnap case, and then fighting cancer with Grand National winner Bob Champion at his bedside.
Thompson, 62, describes the incidents matter-of-factly - just two more vignettes in a colourful life story which has sparked the working title "You Couldn't Make Me Up" for a book later in the year.
.From picking every winner on the card aged five on his racing debut to taking a call from his Casualty actor namesake while commentating at Yarmouth races, every tale is an unlikely, if neatly told, one-liner.
Thompson has been a voice in horse racing for more than 40 years, from BBC local radio to ITV and then Channel 4, for three decades.
Now he is back with BBC Radio, relishing the prospect of reporting from the four-day Cheltenham Festival for 5 live.
His love affair with the sport began back in 1956, when father Stanley - a gifted runner and member of bomber command - took him to the since-closed Stockton racecourse in the north east of England.
"I went through the card - I got all six winners and I have been trying to do it ever since. I obviously couldn't put the bets on, but I said 'Dad, this one, this one'. I think he thought 'aye-aye this kid's quite good,'" said Thompson, now based in the Flat racing centre of Newmarket.
"I think we won something like £9, 18 shillings and six pence. I remember all the horses' names - Oakville and Pluit and all that sort of stuff. That got me interested."
Young Thompson was hooked, and progressed from scouring betting shop floors for mistakenly discarded winning tickets to being the youngest commentator, aged 22, for radio on the Grand National at Aintree.
He was positioned at Valentine's Brook for the 1973 running where Red Rum famously reeled in gallant top-weight Crisp to secure the first of three record-breaking triumphs in the race.
The Aintree marathon is a theme in Thompson's life as he and National-winning jockey Bob Champion knew each other from Cleveland Pony Club in the north east as children.
Thompson was working for ITV at Stockton on Grand National day in 1981 and the BBC showed Champion clinching a fairytale win on Aldaniti.
The horse had once been seriously ill and Champion fought cancer, but they were both nurtured back to health and scored a famous triumph for trainer Josh Gifford.
Thirty minutes or so after the race finished, Thompson took a call from the winning rider.
"As soon as I finished on ITV, I rushed home because my mum lived down the road and we watched Champ winning the Grand National," recalled Thompson, who is widely known as "Tommo".
"He has just won the world's biggest steeplechase, created history, come back from cancer, that whole incredible story and he was on the phone and he asked, 'How did it go on ITV at Stockton?' - those were his first words."
Little did Thompson realise then that more than 30 years later, Champion would be such a support in his own cancer battle as he underwent intensive chemotherapy treatment after a tumour was found near his bowel last summer.
"He's been a rock, an absolute rock," said Thompson. "He's taken me to the hospital, picked me up, and when I had my bad turn in there a few months ago, I woke up and there he was at the end of the bed.
"Considering what I went through undergoing the chemo, and for him to have done it 30 years ago, he must have gone through hell and back."
The 10-time champion trainer Sir Henry Cecil, who guided Frankel through his unbeaten career despite stomach cancer, also offered encouragement.
"Henry Cecil was very good to me," said Thompson, who was given the all-clear from cancer last month.
"When I went back on the gallops at Newmarket six weeks after my operation, he came straight over. He could hardly talk but said, 'Derek, we need to remain positive - you have to remain positive.'
"That, from a man who was going through chemo everyday, was outstanding. He was advising me on things to do, and that's why he gave me an interview after Frankel had won at York [in August 2012].
"I went up to him and I put on his voice and whispered, 'If I talk like this, would you do it?' And he said, 'Yes, if we could talk like that, let's do it'. I was very proud, he was great."
Back in 1981, two months after Aldaniti's win there was another stirring triumph, this time on the Flat as Shergar won the Epsom Derby by a record 10 lengths.
But two years later, after being retired to stud in the Republic of Ireland, the stallion was kidnapped.
Reports suggest the horse died after an IRA ransom plan went wrong but the mystery of what exactly happened remains and his body has never been found.
In a surreal turn of events, Thompson was called in - along with colleague John Oaksey and Sun journalist Peter Campling - to try to negotiate with kidnappers for the horse's release.
"We were told to go to the Europa Hotel in Belfast, which at the time was the most-bombed hotel in Europe during the height of the Troubles in Northern Ireland.
"I was told by this particular person who rang the hotel to drive to this place 30 miles outside of Belfast where we would be contacted again.
"On the way we got lost. We were going up a single road and five men with machine guns and balaclavas jumped out in front us and we all thought, 'Oh god, it's the IRA, they're going to spray the car with bullets'.
"One guy came round to my side, the front passenger seat, and made a motion with his gun to wind the window down.
"I was six inches away from a machine gun looking at me, a guy with two eyes and a mouth with a balaclava on and I was in the middle of the troubles in Northern Ireland and the guy said to me, 'Are you Derek Thompson?' What would you have said?
"We joke about it now, but at the time I said, 'Yes I am'. He explained they were the police and I said 'thank goodness for that'."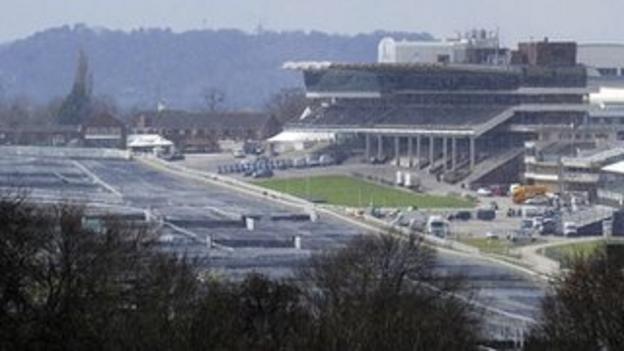 Undercover police were surrounding the farmhouse of trainer Jeremy Maxwell, which was used as a base for negotiations.
"Each time the caller would give me a different horse as a codename so I knew it was him, and it was a very cold voice I can tell you," said Thompson.
"There were a number of things we wanted to see like the horse next to the day's paper, so we knew the horse was alive.
"The true story is at about 1:30 am I kept him talking for more than a minute and a half, and in those days that would be enough to trace the call.
"When I said to the policeman next to me, 'Did you trace the call?' he said, 'Mr Thompson, I'm sorry to say the officer who traces calls went off shift at midnight.'
"Then we had a call at 7:05 in the morning saying quite simply that the horse had an accident and that he was dead and the phone went dead.
"I'm in no doubt that the people I was talking to were the kidnappers of Shergar. I would love to know where the horse is buried so we can put the case to rest."
Thompson said when he returned to England, he recorded everything he remembered on a dictaphone, and has a 60-page transcript hidden away.
He said a password he had never revealed was included in a book written by an IRA supergrass, Sean O'Callaghan, who claimed the organisation had planned and committed the theft.
"I can never forget the voice and can never forget the codenames," said Thompson.
"There was one I kept back called 'King Neptune'. Everything else was made public, and when I read the book by the IRA man who had said he had stolen Shergar he used that very codename."
Thirty years on from Shergar's kidnapping, Thompson arrives at Cheltenham, the home of jump racing, for a new venture at the famous meeting.
"Without doubt it is the most exciting four days in the world," he said.
"It is the world championships, the Olympics and whatever all rolled in to one. You don't get better than Cheltenham.
"Sport and particularly racing and Cheltenham gives you that something to look forward to."
So does he have a prediction for the meeting's big race, the Cheltenham Gold Cup on Friday?
"Captain Chris each-way at 20-1. I had dinner with the jockey Richard Johnson recently and he assured me the horse will stay and that he will go on any ground," said Thompson.
"We all think we may know the answer, but at the back of our mind we won't know until the race is run and that is the beauty of racing."