Cheltenham: Oscar Delta unseats Jane Mangan in Foxhunter
By Frank Keogh
BBC Sport at Cheltenham
Last updated on .From the section Horse Racing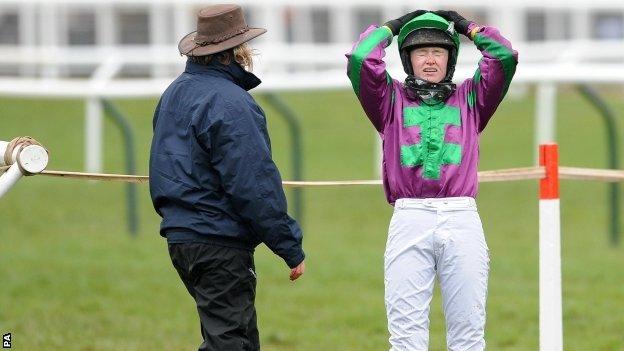 Teenage Irish jockey Jane Mangan was left in tears after a Devon Loch-style incident robbed her of potential victory on Cheltenham Gold Cup day.
The 18-year-old was clear on Oscar Delta in the Foxhunter Chase when her mount mysteriously jinked to the left and unseated her.
In a drama reminiscent of Devon Loch's freak collapse in the 1956 Grand National, the 67,000 crowd gasped as favourite Salsify took advantage to claim victory.
She said the misfortune paled into insignificance when compared to the serious injuries of her amateur riding colleague JT McNamara.
"It was like a Disney film, when I hit the ground I thought I was dreaming, but I'm not feeling as bad as the McNamaras," said Jane.
"The horse gave me a great spin, he just thought he was going round another circuit. He just jinked to the left and I tried to correct myself but wasn't ready for it which was my fault."
The drama bore echoes of Devon Loch, the racehorse owned by the Queen who inexplicably jumped in the air and landed on his stomach at Aintree, allowing ESB to gain victory.
as Gold Cup day began, having suffered a fall the previous day which left him with serious spinal injuries.
Jane Mangan, from Cork, was riding Oscar Delta - who had been third in 2011 and 2012 - in the race following the Gold Cup for her father Jimmy, who won the Grand National at Aintree in 2003 with Montys Pass.
A respected rider in her homeland, she had expertly guided her 10-year-old mount round most of the course of just over three-and-a-quarter miles in a race known as the 'Amateurs' Gold Cup'.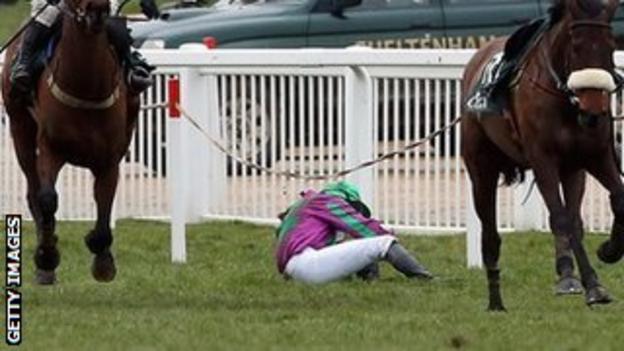 But after safely negotiating the last, the gelding veered to go left through a tape which stretched across a break in the running rail, and his jockey was thrown to the muddy ground.
Her father said: "She gave it a brilliant ride. I couldn't be more proud of her. The horse tried to go round again, out into the country. She's 100%. I consoled her and said 'Think of poor John Thomas.' It could be a lot worse. We'll be back again."
The 2-1 favourite Salsify, trained by Rodger Sweeney who is also from Cork, trailed by several lengths when the leader came unstuck coming up the run-in.
Salsify won the race for the second year running under the trainer's son Colman, who was out of racing for nearly two years with a head injury following a fall at Tipperary but returned to action last season.
"We were very lucky and I am gutted for her," said the winning trainer. "I think she had our lad beaten. One person's misfortune is another person's gain though.
"She was in full flight, driving on for the line and she is a very polished rider - she rode a beautiful race."
Colman, who also won the race in 2005 on the Paul Nicholls-trained Sleeping Night, said he felt sorry for the unlucky loser.
"You must feel for Jane. I know her quite well, she lives locally and I ride against her in point-to-points but that's racing," he said.
"Jane falling and me winning doesn't matter when John Thomas is lying there in hospital. I ride against him every Sunday in point-to-points and I was sick to my stomach last night."