Martin Dwyer free to ride pending Indian racing suspension appeal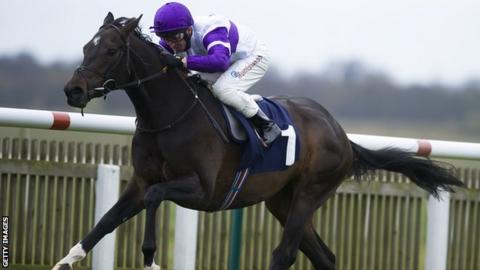 Jockey Martin Dwyer is free to ride again pending an appeal against a controversial riding ban imposed by Indian racing authorities.
Dwyer, 36, had a suspension imposed for allegedly preventing a mount from running on its merits and it was due to run from 6 April to 31 May.
An appeal to the Royal Western India Turf Club was heard on Monday.
A further investigation will now be held by stewards but Dwyer is free to ride until a decision is reached.
"The RWITC Appeal Board hearing has concluded and they have referred the matter back to the stewards for a further detailed inquiry on the grounds of unnatural justice and fair play," Paul Struthers, chief executive of the Professional Jockeys' Association, said on Twitter.
"I am told this may take some time but that Martin will be free to ride in the meantime."
The former winner of the Epsom Derby (Sir Percy, 2006) and Epsom Oaks (Casual Look, 2003) was punished following a race in Mumbai in February.
Stewards declared Dwyer's mount, Ice Age, the favourite, a non-runner- so bets were returned - after the horse was beaten into third place.
The Liverpool-born jockey insisted Ice Age had broken a blood vessel and bled extensively at the end of the race indicating an internal problem.
Such was the angry reaction of the crowd that Dwyer was rushed out of the track in the back of a car.
Following the verdict to ban him initially, Dwyer told BBC Sport: "The vets confirmed about the horse 'bleeding' and I even had blood on me at the original hearing.
"I'm trying to get my head round it, but I will appeal against this decision, and will do everything I can to clear my name."
Normally the ban, imposed by the RWITC, would apply worldwide. But if Dwyer's appeal fails the jockey would be able to ask the British Horseracing Authority not to recognise it in Britain.
Last year, a 50-day suspension imposed in India on champion jockey Richard Hughes was upheld by the Authority.