Grand National 2013: Imperial Commander tops Aintree field
Last updated on .From the section Horse Racing95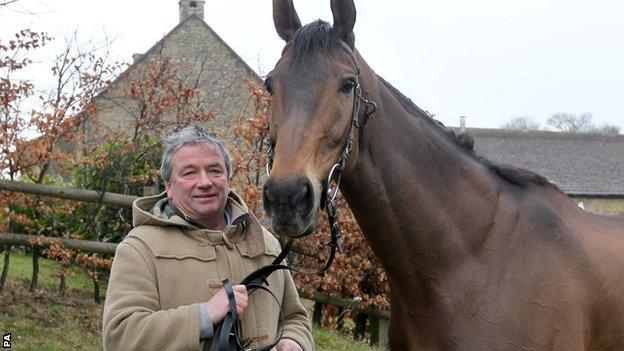 The 2010 Cheltenham Gold Cup winner Imperial Commander heads the maximum field of 40 runners declared for Saturday's Grand National at Aintree.
The 12-year-old is top weight and will run with Sam Twiston-Davies riding for his trainer father Nigel.
Champion jockey Tony McCoy has opted to ride the Ted Walsh-trained Colbert Station in the race.
On His Own, trained in Ireland by Willie Mullins, is the 7-1 favourite, ahead of Cappa Bleu and Seabass.
Mullins and his jockey Ruby Walsh teamed up for National glory with Hedgehunter in 2005.
Seabass, who is also trained by Ted Walsh, was third last year and is once again partnered by his daugher Katie, the sister of Ruby.
McCoy faced a difficult choice as his other JP McManus-owned option was Jonjo O'Neill's Sunnyhillboy, beaten by the narrowest margin in National history 12 months ago by Neptune Collonges.
However, with Sunnyhillboy carrying 10lb more this year, McCoy has gone for the potential improver.
Imperial Commander co-owner Ian Robinson said: "After detailed discussion and consideration with fellow owners, trainer and stable staff it has been decided that Imperial Commander will line up in Saturday's Grand National.
"Despite running off top weight his mark of 158 gives him a feasible chance, and with stamina being very much his forte these days the race will play to his strengths."
As well as Imperial Commander, Twiston-Davies has two more contenders in Major Malarkey, ridden by Tom Scudamore, and Viking Blond (Adam Wedge), who was the final horse of the 40 declared runners.
Champion trainer Paul Nicholls, who claimed his first National last season in thrilling circumstances, has Join Together (Daryl Jacob), What A Friend (Sam Thomas) and Harry The Viking (Ryan Mahon).
What A Friend and Harry The Viking are part-owned by Manchester United manager Sir Alex Ferguson.
Donald McCain runs 2011 winner Ballabriggs, Weird Al and Across The Bay, while Nicky Henderson, who is still searching for his first win in the race, is represented by Roberto Goldback.
Chicago Grey and Tarquinius run for another former successful trainer in Gordon Elliott who was set to have a third runner in Backstage, but he was ruled out through illness on Thursday morning.
Cappa Bleu, fourth last year, is aiming to maintain Evan Williams' superb recent record of having had a placed runner for the last four years.
Oscar Time, second two years ago, is back again and will be ridden by Sam Waley-Cohen.
Quinz, Poker De Sivola, Cloudy Lane and Pearlysteps have also been taken out while Mortimers Cross and Pentiffic are the two reserves.
Aintree officials have put in measures to try to ensure safer, softer going, amid concerns over welfare.
Two horses have suffered fatal injuries in each of the last two runnings and a new more flexible plastic core material has been introduced to fences in an effort to improve safety,
Grand National field
Card number | Form | Name | Breeding | Age - Weight | Trainer | Jockey I Approx odds
1) 51U/1P/-2 IMPERIAL COMMANDER (IRE) 12-11-10 Nigel Twiston-Davies/Sam Twiston-Davies 14-1
2) P/33F0-0 WHAT A FRIEND 10-11-09 Paul Nicholls/Sam Thomas 50-1
3) 3PF-4PP WEIRD AL (IRE) 10-11-08 Donald McCain/Timmy Murphy 50-1
4) 1113-04 QUEL ESPRIT (FR) 9-11-07 Willie Mullins IRE/Paul Townend 40-1
5) 40/-U312 BIG FELLA THANKS 11-11-06 Tom George/Denis O'Regan 40-1
6) 1113-23 SEABASS (IRE) 10-11-06 Ted Walsh IRE/Katie Walsh 10-1
7) 0-1U355 ROBERTO GOLDBACK (IRE) 11-11-06 Nicky Henderson/Barry Geraghty 33-1
8) P012-5P SUNNYHILLBOY (IRE) 10-11-04 Jonjo O'Neill/Richie McLernon 16-1
9) 1/46-P03 BALLABRIGGS (IRE) 12-11-04 Donald McCain/Jason Maguire 20-1
10) 11-0620 TEAFORTHREE (IRE) 9-11-03 Rebecca Curtis/Nick Scholfield 14-1
11) 3-11201 ACROSS THE BAY (IRE) 9-11-02 Donald McCain/Henry Brooke 33-1
12) 1P3-02P JOIN TOGETHER (IRE) 8-11-02 Paul Nicholls/Daryl Jacob 16-1
13) 413-5211 COLBERT STATION (IRE) 9-11-01 Ted Walsh IRE/AP McCoy 12-1
14) 2P1536 FORPADYDEPLASTERER (IRE) 11-11-00 Thomas Cooper IRE/Andrew McNamara 66-1
15) P1/B1F-1 ON HIS OWN (IRE) 9-11-00 Willie Mullins IRE/Ruby Walsh 7-1
16) 0-35233 JONCOL (IRE) 10-10-13 Paul Nolan IRE/Robbie Power 50-1
17) P0F1-12 BALTHAZAR KING (IRE) 9-10-12 Philip Hobbs/Richard Johnson 20-1
18) 1334-22 CAPPA BLEU (IRE) 11-10-11 Evan Williams/Paul Moloney 11-1
19) 2/4-4U60 OSCAR TIME (IRE) 12-10-11 Martin Lynch IRE/Sam Waley-Cohen 66-1
20) 44001-00 ALWAYS WAINING (IRE) 12-10-10 Peter Bowen/Tom O'Brien 40-1
21) 15U-606 TATENEN (FR) 9-10-10 Richard Rowe/Andrew Thornton 66-1
22) 423F-01 TREACLE (IRE) 12-10-09 Tom Taaffe IRE/Andrew Lynch 33-1
23) 011611 LOST GLORY (NZ) 8-10-08 Jonjo O'Neill/Mark Walsh 50-1
24) P-P1440 SWING BILL (FR) 12-10-08 David Pipe/Conor O'Farrell 66-1
25) U01-F430 SAINT ARE (FR) 7-10-08 Tim Vaughan/Dougie Costello 50-1
26) B-0U631 CHICAGO GREY (IRE) 10-10-07 Gordon Elliott IRE/Paul Carberry 12-1
27) 010F-605 QUISCOVER FONTAINE (FR) 9-10-07 Willie Mullins IRE/David Casey 40-1
28) 3B0-643 RARE BOB (IRE) 11-10-06 Dessie Hughes IRE/Bryan Cooper 20-1
29) 04-311P4 THE RAINBOW HUNTER 9-10-06 Kim Bailey/Aidan Coleman 66-1
30) F-63PP5 BECAUSEICOULDNTSEE (IRE) 10-10-06 Noel Glynn IRE/Martin Ferris 66-1
31) 12P-P00 HARRY THE VIKING 8-10-06 Paul Nicholls/Ryan Mahon 40-1
32) 2360264 MR MOONSHINE (IRE) 9-10-05 Sue Smith/Peter Buchanan 66-1
33) 1133FP MUMBLES HEAD (IRE) 12-10-04 Peter Bowen/Jamie Moore 100-1
34) 3F6042 NINETIETH MINUTE (IRE) 10-10-03 Tom Taaffe IRE/Niall Madden 66-1
35) 0P45F5 AURORAS ENCORE (IRE) 11-10-03 Sue Smith/Ryan Mania 66-1
36) P11420 TARQUINIUS (FR) 10-10-02 Gordon Elliott IRE/Wilson Renwick 100-1
37) 614U40 ANY CURRENCY (IRE) 10-10-00 Martin Keighley/Ian Popham 66-1
38) 2P-265P MAJOR MALARKEY (IRE) 10-9-13 Nigel Twiston-Davies/Tom Scudamore 100-1
39) 621B-001 SOLL 8-9-12 Jo Hughes/Mark Grant 40-1
40) 023P25 VIKING BLOND (FR) 8-9-11 Nigel Twiston-Davies/Adam Wedge 66-1
RESERVES (if withdrawals before 10:00 BST on Friday)
000165 PENTIFFIC (NZ) 10-9-08 Venetia Williams 100-1
P-22150 MORTIMERS CROSS 12-9-06 John Needham 200-1