Grand National: Aintree runners and riders
Last updated on .From the section Horse Racing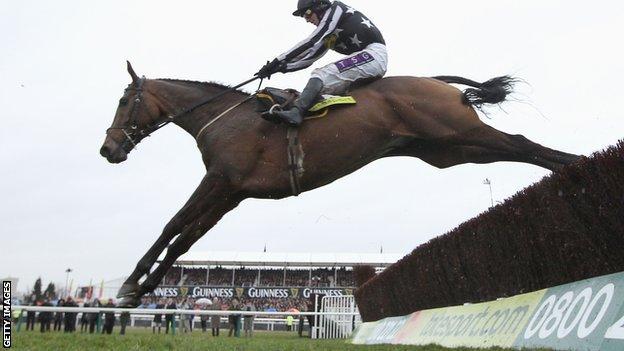 The maximum 40 runners will line up for the Grand National at Aintree on Saturday (16:15 BST).
Thursday's final declaration stage saw Backstage, Poker de Sivola, Pearlysteps and Quinz all withdrawn, meaning both Soll and Viking Blond get a run.
The field is headed by Imperial Commander, the 2010 Cheltenham Gold Cup winner.
Champion jockey Tony McCoy has opted to ride Colbert Station for Ted Walsh rather than Sunnyhillboy.
Grand National racecard
Card number | Form | Name | Breeding | Age - Weight | Trainer | Jockey I Approx odds
1) 51U/1P/-2 IMPERIAL COMMANDER (IRE) 12-11-10 Nigel Twiston-Davies/Sam Twiston-Davies 14-1
2) P/33F0-0 WHAT A FRIEND 10-11-09 Paul Nicholls/Sam Thomas 50-1
3) 3PF-4PP WEIRD AL (IRE) 10-11-08 Donald McCain/Timmy Murphy 50-1
4) 1113-04 QUEL ESPRIT (FRA) 9-11-07 Willie Mullins IRE/Paul Townend 40-1
5) 40/-U312 BIG FELLA THANKS 11-11-06 Tom George/Denis O'Regan 40-1
6) 1113-23 SEABASS (IRE) 10-11-06 Ted Walsh IRE/Katie Walsh 10-1
7) 0-1U355 ROBERTO GOLDBACK (IRE) 11-11-06 Nicky Henderson/Barry Geraghty 33-1
8) P012-5P SUNNYHILLBOY (IRE) 10-11-04 Jonjo O'Neill/Richie McLernon 16-1
9) 1/46-P03 BALLABRIGGS (IRE) 12-11-04 Donald McCain/Jason Maguire 20-1
10) 11-0620 TEAFORTHREE (IRE) 9-11-03 Rebecca Curtis/Nick Scholfield 14-1
11) 3-11201 ACROSS THE BAY (IRE) 9-11-02 Donald McCain/Henry Brooke 33-1
12) 1P3-02P JOIN TOGETHER (IRE) 8-11-02 Paul Nicholls/Daryl Jacob 16-1
13) 413-5211 COLBERT STATION (IRE) 9-11-01 Ted Walsh IRE/AP McCoy 12-1
14) 2P1536 FORPADYDEPLASTERER (IRE) 11-11-00 Thomas Cooper IRE/Andrew McNamara 66-1
15) P1/B1F-1 ON HIS OWN (IRE) 9-11-00 Willie Mullins IRE/Ruby Walsh 7-1
16) 0-35233 JONCOL (IRE) 10-10-13 Paul Nolan IRE/Robbie Power 50-1
17) P0F1-12 BALTHAZAR KING (IRE) 9-10-12 Philip Hobbs/Richard Johnson 20-1
18) 1334-22 CAPPA BLEU (IRE) 11-10-11 Evan Williams/Paul Moloney 11-1
19) 2/4-4U60 OSCAR TIME (IRE) 12-10-11 Martin Lynch IRE/Sam Waley-Cohen 66-1
20) 44001-00 ALWAYS WAINING (IRE) 12-10-10 Peter Bowen/Tom O'Brien 40-1
21) 15U-606 TATENEN (FRA) 9-10-10 Richard Rowe/Andrew Thornton 66-1
22) 423F-01 TREACLE (IRE) 12-10-09 Tom Taaffe IRE/Noel Fehily 33-1
23) 011611 LOST GLORY (NZ) 8-10-08 Jonjo O'Neill/Mark Walsh 50-1
24) P-P1440 SWING BILL (FRA) 12-10-08 David Pipe/Conor O'Farrell 66-1
25) U01-F430 SAINT ARE (FRA) 7-10-08 Tim Vaughan/Dougie Costello 50-1
26) B-0U631 CHICAGO GREY (IRE) 10-10-07 Gordon Elliott IRE/Paul Carberry 12-1
27) 010F-605 QUISCOVER FONTAINE (FRA) 9-10-07 Willie Mullins IRE/David Casey 40-1
28) 3B0-643 RARE BOB (IRE) 11-10-06 Dessie Hughes IRE/Bryan Cooper 20-1
29) 04-311P4 THE RAINBOW HUNTER 9-10-06 Kim Bailey/Aidan Coleman 66-1
30) F-63PP5 BECAUSEICOULDNTSEE (IRE) 10-10-06 Noel Glynn IRE/Martin Ferris 66-1
31) 12P-P00 HARRY THE VIKING 8-10-06 Paul Nicholls/Ryan Mahon 40-1
32) 2360264 MR MOONSHINE (IRE) 9-10-05 Sue Smith/Peter Buchanan 66-1
33) 1133FP MUMBLES HEAD (IRE) 12-10-04 Peter Bowen/Jamie Moore 100-1
34) 3F6042 NINETIETH MINUTE (IRE) 10-10-03 Tom Taaffe IRE/Niall Madden 66-1
35) 0P45F5 AURORAS ENCORE (IRE) 11-10-03 Sue Smith/Ryan Mania 66-1
36) P11420 TARQUINIUS (FRA) 10-10-02 Gordon Elliott/K Renwick IRE 100-1
37) 614U40 ANY CURRENCY (IRE) 10-10-00 Martin Keighley/Ian Popham 66-1
38) 2P-265P MAJOR MALARKEY (IRE) 10-9-13 Nigel Twiston-Davies/Tom Scudamore 100-1
39) 621B-001 SOLL 8-9-12 Jo Hughes/Mark Grant 40-1
40) 023P25 VIKING BLOND (FRA) 8-9-11 Nigel Twiston-Davies/Adam Wedge 66-1