Grand National 2013: BHA defends Aintree race safety

By Joe Wilson
BBC sports news correspondent
Last updated on .From the section Horse Racing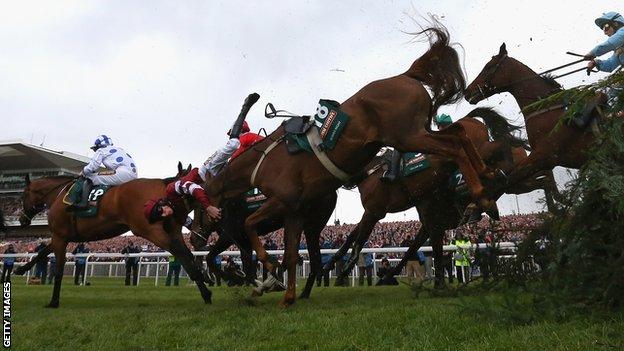 The British Horseracing Authority (BHA) has defended the Grand National, saying its overall safety record has improved.
Two fatalities in 2011 prompted a major review into safety, with two more horse deaths in 2012 resulting in changes to the Aintree course for Saturday's race.
BHA director of raceday operations Jamie Stier told the BBC: "The fatalities of last year do not mean the changes made were inappropriate.
"People need to give an opportunity for the changes to bed in."
He added: "If we look back over the years, the Grand National has actually become safer.''
Pointing to the fact that there were only six equine fatalities in the previous 11 Nationals, Stier said: ''The period up to 2010 was the best rolling 10-year period in the history of the race.
"Unfortunately, since then we have had some fatalities, but by the same token overall the safety record of the race has improved.
"I think it's important people understand that and allow the opportunity for the changes which have taken place to bed in rather than seeking to change more and more all the time.''
The changes made to the Aintree course include shortening the distance of the race from four-and-a-half miles to four miles and three-and-a-half furlongs and changing the core material used to build the fences from wood to a more forgiving plastic material.
Welfare groups which advise racing have welcomed this year's modifications to the fences in particular, whilst stressing the success or failure of any changes to the Grand National can only be judged over time.
The RSPCA's David Muir said: "In all honesty they have done more than I thought they would.
"Fundamentally the changes that have been made are major already.
"They've taken the cores of the fences out, there is a cooling down area now, there's a water system and there's a reduction in the number of drop fences - we'd still like to see changes to Becher's Brook, the drop is still a concern."
Jonjo O'Neill has experienced first hand fatalities at Aintree. Last year he saw Cheltenham Gold Cup winner Synchronised die at the course but is still backing the race.
"It's always been a fantastic race and it still is," he told the Times.
"People saying the National should be stopped just don't understand. We are all in racing because we love the horses, but we take things to heart.
"Some of the things said about us are an insult, as if we are animals ourselves. There are people out there stabbing and shooting, killing randomly, and sometimes it seems we are being put in the same bracket."
The Grand National Meeting gets under way on Thursday, with the first race of the three-day event taking place at 14:00 BST.