What will Manchester United sell off next?

By David Bond
BBC sports editor
Last updated on .From the section Football254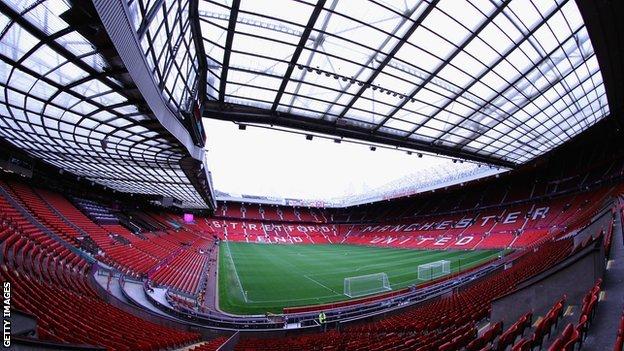 Manchester United boast that they have more than 650m followers around the world and ever since the Glazer Family bought the club in 2005 the American owners have been looking to squeeze every penny out of the team's remarkable global appeal.
In 2012 United generated £117m from commercial and merchandising income. To put that into context only five other Premier League clubs have a turnover drawn from all sources greater than £100m.
Much of this remarkable income growth has been driven by the Glazers' strategy of dividing up United's rights on a country by country basis. Every other week they seem to be announcing a new sponsor somewhere in the world. They have an office in London's Mayfair, one in Hong Kong and another about to open in America.
While the team might still play in Manchester, it is owned by Americans, registered in the Cayman Islands and has sponsors in Africa, Asia and the Middle East. It might seem a bit crowded for those companies seeking to ally themselves with the United brand, but there doesn't seem to be any shortage of takers.
United set a precedent back in 2011 when they did a £40m, four-year deal with DHL to sponsor their training kit. But last October they ripped up that contract, anticipating they could make even more money from a different type of agreement.
Today's announcement is the consequence of that decision and while it is the Aon logo on the training kit which might attract the most eyeballs, it is the decision to rename the club's training ground that will raise the eyebrows.
Although it is not known exactly how the deal with Aon breaks down, taken as a whole it compares favourably with some of the other combined naming rights agreements signed by Premier League clubs.
United's neighbours Manchester City secured the biggest naming rights and kit deal in the country - and perhaps even the world - when they signed a 10-year deal with Etihad worth £40m a year in 2011.
Arsenal recently signed a £150m deal with Emirates Airline which includes a five-year kit contract and a naming rights deal for the club's stadium until 2028.
But to secure around £15m-a-year for a training ground and kit deal of this nature is extraordinary and shows United are still a long way ahead of their rivals when it comes to commercial pulling power.
All of which will no doubt raise the question of how long it will be before the Glazers cash in by selling the naming rights to Old Trafford. As owners of an American football team, they come from a sporting culture where such sponsorship agreements are one of the most important ways of raising revenue.
We haven't been told how much of the City deal with Etihad is for the naming rights and how much is for the kit, but United's famous ground must be worth at least the same if not more.
And yet, Edward Woodward, the club's executive vice chairman and the Glazers' chief of staff, has insisted "Old Trafford will not be sold".
The Americans know they remain deeply unpopular among a large section of the club's supporters and selling off the name of the club's home would be tantamount to flogging the crown jewels. Suspicion remains that any profits generated by the Glazers will be siphoned off to pay down the debts they ran up to acquire the club eight years ago.
The less sentimental will point to the huge footballing benefits that come with such financial muscle. Sir Alex Ferguson knows that the introduction of new financial fair play rules both in Europe and at home will give him and the Glazer business model the edge over other clubs like City and Chelsea who remain so reliant on rich owners to finance team building.