Grand National win offers no guarantees for jockey Ryan Mania
By Elizabeth Hudson
BBC Sport
Last updated on .From the section Horse Racing112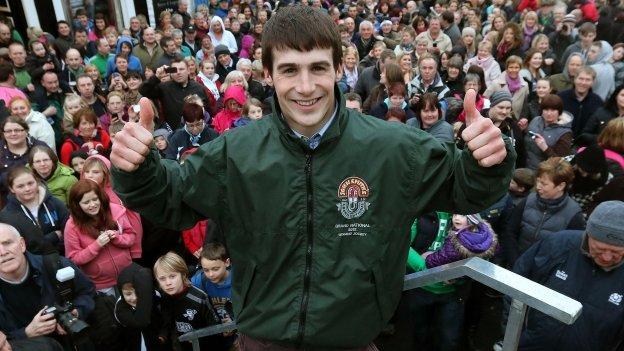 Ryan Mania's life changed dramatically thanks to his Grand National-winning ride at Aintree.
But can the 23-year-old now use his new-found fame to become one of the top jump jockeys in the country?
While winning the world's most famous steeplechase in front of a 50,000-strong Liverpool crowd and millions watching on television might represent the biggest day in Mania's life, both in terms of profile and prize-money, it is no guarantee of financial riches.
The Scot left the track last Saturday with his bank account bolstered by £50,602.50 for his ride on board the 66-1 shot Auroras Encore, but was brought back to reality the following day when he fell from Stagecoach Jasper at Hexham in his first ride after his famous win and had to be airlifted to hospital in Newcastle with neck and back injuries.
Mania stayed two nights in hospital before being released but now wants to be back in the saddle as soon as possible. Ironically, his hospital visit has kept him in the public eye for longer than he would have anticipated with an exclusive column for a national newspaper and an appearance on ITV's Daybreak programme, as well as a homecoming parade through his home town of Galashiels.
But although he will not have to worry about financial matters in the short term following the Aintree win, Mania's long-term financial future in racing is less clear.
"Winning the Grand National is the pinnacle of any jockey's career, and there's no other jumps race in the calendar that comes close to its value, so it's also their biggest possible payday," said Paul Struthers of the Professional Jockeys' Association (PJA).
"However, whether it has any impact on their future earnings is debatable. Whilst it certainly raises their profile it very rarely materialises into getting one of the top jobs.
"An average jockey riding 300 to 400 horses a year is unlikely to clear much more than £20,000 after all his expenses and tax. The bottom line is the majority do it for the love and thrill of it, and because they know nothing else."
One of those who has found the going tough is Liam Treadwell, who won the 2009 Grand National on board the 100-1 shot Mon Mome.
The Tewkesbury-based rider, who was the subject of a remark about his teeth from presenter Clare Balding, admitted after he rode a winner at the Cheltenham Festival in March that he had considered his future in the sport for financial reasons but had opted to carry on.
"I'm delighted because 18 months ago my back was against the wall and I was tempted to walk away," he said after the win on the 50-1 chance Carrickboy for trainer Venetia Williams, who also trained Mon Mome.
"To be honest, it was financial as much as anything, because it costs a lot to trek around the country and I wasn't making ends meet."
Racing fees are standardised for jockeys with all jump jockeys receiving £157.72 per ride (up from £153.42 in 2012) while flat jockeys get £115.52 (up from £112.37) - and with over 200 full professional jockeys and over 200 apprentice and conditional jockeys, competition for rides is tough.
Winners receive 8-8.5% of the total race prize money, with 4-5% going to the placed horses.
But the expenses are also hefty with agents' fees of 10%, valet fees, PJA membership (3% of riding fee), group insurances and physiotherapy services, plus the cost of travelling to the races and to trainers' yards to ride out.
Mania, who started riding aged three when his parents put him on a Shetland pony, is best described as a journeyman jockey. Since making his debut in the 2007-08 season, he has enjoyed 122 wins out of 1322 rides - a win percentage of just over 9%.
However, horse racing is never going to make many jockeys into millionaires and the £50,000 for winning over the 30 Aintree fences is not representative of the prize money on offer for jockeys over the rest of the year.
Jump racing's top-earning jockey is 17-time champion Tony McCoy who, as well as his race fees and prize money, also receives a financial retainer from wealthy Irish owner JP McManus, which has been rumoured to be worth anything up to £1m a year.
Meanwhile, Mania's last win before the National was at Wetherby last week and was worth £183.
"The rewards for those at the very top are handsome compared to what the normal working man or woman would earn, but certainly less than the leading players in all other major sports," added Struthers.
"Being a jockey - jump or flat - is very risky but especially being a jump jockey. They are followed around by ambulances as part of their daily routine and injuries are common with up to 10% of licensed jockeys off injured at any given time.
"It is our view that they should both be paid more, but most jockeys wouldn't complain about the riding fee, but they would complain about prize money.
"People assume the winning jockey gets 10% percentage, but they don't, and their share of place prize money is especially poor, particularly given the generally poor levels of prize money in Britain, where most races are worth less than £3,000 to the winner. We believe this is something that needs addressing."