Newmarket warmed by £4,000 horticultural fleece
Last updated on .From the section Horse Racing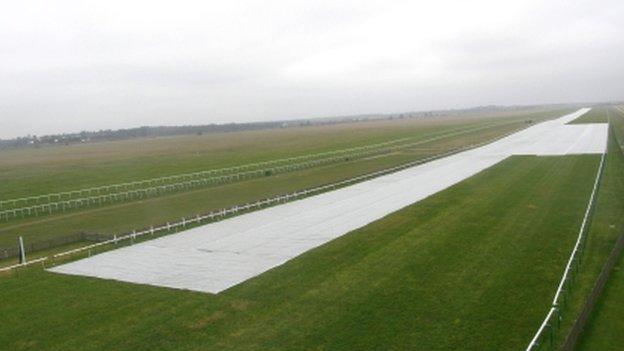 Newmarket bosses believe racing at the course will benefit from the use of a £4,000 layering of agricultural fleece, which is rarely seen at flat tracks.
Next week's Craven meeting, Newmarket's season opener, will be run on turf that spent January until March hidden under covers, often used in farming.
"We've noticed a marked difference," clerk of the course Michael Prosser told BBC Radio Cambridgeshire.
"We took the covers off in March and you have a better and denser sward."
Newmarket first trialled the fleece, more commonly used on crops and gardens, in 2011 on a small patch of the Rowley Mile.
They extended its use last year to cover the length of the Craven course, although a mild start to the year meant the benefits were not as pronounced.
But Prosser believes the fleece has gone some way to protecting the ground from this year's freezing temperatures and avoiding the degradation of previous years.
"We had an appalling spring four years ago and we have a lot of grass, particularly on the Rowley Mile, that is susceptible to low temperatures," he said.
"We had a lot of die back and no recovery before the Craven Meeting in 2010, so we thought about how we could manage this better for the future. You can't beat Mother Nature but hopefully you can accommodate her better.
"We're always modernising. If you stand still, others will catch you up and overtake you.
"Agronomy is very much a science now. Everything is carefully and meticulously thought through."