Black Caviar: Story of the unbeaten Australian wonder mare
Last updated on .From the section Horse Racing174
Built like a bulldozer, performed like a ballerina - Black Caviar is a racing champion who became a cover star.
It was confirmation of how the racehorse, nicknamed Nelly, had transcended her sport.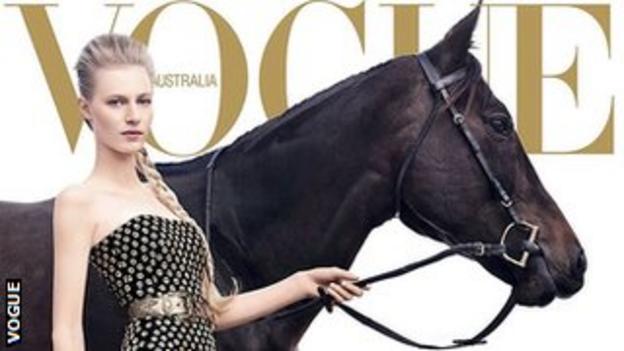 The story of Black Caviar was one which translated worldwide, with her owners' colours of salmon pink with black spots helping her stick out as an equine icon.
Her ability to cope with a variety of tracks and distances endeared her to the public, and her lengthy winning run brought an ever-increasing band of supporters.
She won at seven tracks - over five, six and seven furlongs - in a four-year career which earned more than £4.6m in prize money.
Racecourses which normally had crowds of about 3,000 would see 30,000 pack in to see racing's leading lady, who has her own merchandising range, blog, plus Twitter and Facebook pages.
It's apparent why fans called her the Wonder from Down Under.
Her 25th victory at Royal Randwick, Sydney, on Saturday led to renewed speculation that her career would continue with a possible finale at Royal Ascot in the UK to precede a fling in the breeding shed with top British stallion Frankel.
But retirement rumours surprisingly surfaced when Australian racing journalists were sent a message at 1.30pm local time on Wednesday that there would be a press briefing at 3pm (06:00 BST), with her owners in attendance.
At the Melbourne yard of trainer Peter Moody, surrounded by journalists who had rushed to the stables, he revealed the career of a racing great was over.
"At the end of the day we believe she's done everything we've asked her to do and she could possibly have done no more," he said.
"It's a job well done, and something we can all be extremely proud of. She really gave her all and we thought what else can we achieve? She's been a great shining light for racing."
Despite being a female sprinter running over six furlongs, at 565 kilograms (about 88 stone) she weighs more than bulky former steeplechasing star Denman.
Her stride has been independently measured at 8.33m, meaning she takes 24 strides over 200m (a furlong). Her rivals can take 30 to cover the same distance.
The retirement of the world's top-rated racehorse led news bulletins in Australia and her name was trending worldwide on social media.
Now she is set for a breeding career, with her first partner likely to be an Australian stallion later in the year.
It will be a new chapter for the horse, owned by five lucky couples who bought her for 210,000 Australian dollars (about £140,000) and have enjoyed the ride of a lifetime.
Perhaps Black Caviar's greatest win was the race she almost lost - her only run outside her homeland, at Royal Ascot in June 2012.
After a 10,000-mile trip, costing about £100,000, halfway round the world, where she travelled by plane for 30 hours in a special spandex compression suit, the horse also suffered a shoulder injury in the Diamond Jubilee Stakes.
To compound matters, jockey Luke Nolen - who was on board for 22 of her 25 victories - admitted what he called "brain failure" when easing up as he mistook the winning line, and only just held on by a head.
In the Ascot parade ring afterwards, racing royalty came together. Queen Elizabeth II patted Black Caviar on the nose, and the horse nodded in appreciation.
Part-owner David Taylor told BBC Sport: "There's never been a moment we've seen where she has shown any antagonism to anything, which is most rare for such a high-powered horse."
Black Caviar was just as calm when lined up by Vogue for a photoshoot, alongside top Australian model Julia Nobis, which graced the magazine in December 2012.
Nobis wore a bespoke Alexander McQueen gown. Black Caviar wore the contented look that suggested it was all part of her job.
"Black Caviar certainly knows when the lens is focused on her, and it's terrific to celebrate her beauty, rather than just her speed," said editor-in-chief Edwina McCann.
Her owners hope the new job, as a broodmare, will mean Black Caviar's offspring race for Moody in future years.
A meeting with Frankel, who retired in October after an unbeaten 14-race career for a stud career where his services earn £125,000 a time, now appears less likely.
Black Caviar's senior part-owner Neil Werrett said: "It was always going to be a difficult decision, but better we retire her without mishap and we can look forward to her progeny.
"Now she is retiring in Australia, it is very doubtful Frankel will be her romance."
Racehorses are powerful but fragile creatures where careers can easily be halted by unexpected injury. Few go through consecutive seasons without a 0 for unplaced against their name.
Black Caviar's first victory came on 18 April, 2009. Retirement came on 17 April, 2013.
How good was the brilliant brown mare over those four years? Perhaps her race record says the most. It reads - 1111/1111/11111111/111111-111.