Black Caviar: Frankel mating in 2013 unlikely for Australian mare
Last updated on .From the section Horse Racing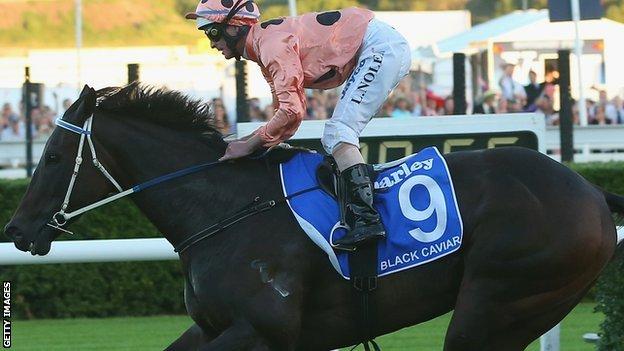 Retired wonder mare Black Caviar is expected to begin her breeding career in Australia but a 2013 date with British stallion Frankel is very unlikely.
The unbeaten pair, rated the best racehorses in the world during their successful stints on the track, could potentially still mate in the future.
Frankel won 14 races on the trot before being retired to stud in October 2012, while Black Caviar won 25 consecutive races.
The mare's part-owner David Taylor told BBC Sport: "It is highly unlikely they will meet this year, although it is possible in the future."
Just over three weeks ago, Black Caviar's Melbourne trainer Peter Moody strongly suggested the six-year-old could visit Frankel, who commands a £125,000-a-time fee, at stud in Newmarket after a final run at Royal Ascot.
But despite talk of several further runs, it was announced on Wednesday that her racing career was over and she would be retired in her homeland.
Taylor, one of 10 part-owners of the 'Wonder from Down Under', said: "The current thinking is we will keep her in Australia for one of the best stallions in early September and go from there."
Racehorse ages are determined on 1 August in the southern hemisphere and 1 January in the northern hemisphere.
With an average broodmare pregnancy expected to last 11 months, the Australian breeding season is normally concentrated on the period from mid-September to the end of December, while it is largely mid-February to the end of May in Europe.
In regard to a potential future partnership with Frankel, Taylor said "nothing had been ruled out at this stage".
Taylor is well known in Australia for winning a bet with Australian Rules football player Dale Thomas, who had said Black Caviar would not rack up 20 straight wins. Thomas now has an image of the horse tattooed on his backside.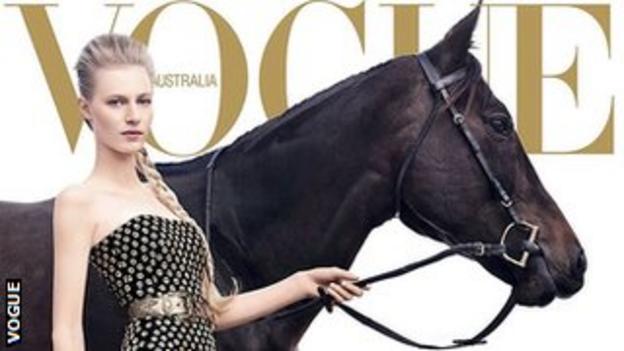 Paying tribute to the retired mare, affectionately nicknamed Nelly, Taylor added: "There is no doubt it has been an amazing trip for us.
"All good things come to an end, and it's great that she is going out on a high."
After Black Caviar's 25th win - at Randwick, Sydney, on Saturday - there was renewed speculation she would race on and return to Royal Ascot, where she scored a narrow success in June 2012 despite suffering an injury in the Diamond Jubilee Stakes.
But Moody said: "We thought long and hard about Ascot, Brisbane and Adelaide but it's a good time to finish as she's done everything we've asked of her.
"It's time to pull the career of one of our finest horses ever.
"She's got a few aches and pains but we always wanted to make sure she finished on a good note.
"After Ascot we were going to retire but in the finish we got three more runs out of her."