Godolphin trainer Mahmood Al Zarooni charged over doping
Last updated on .From the section Horse Racing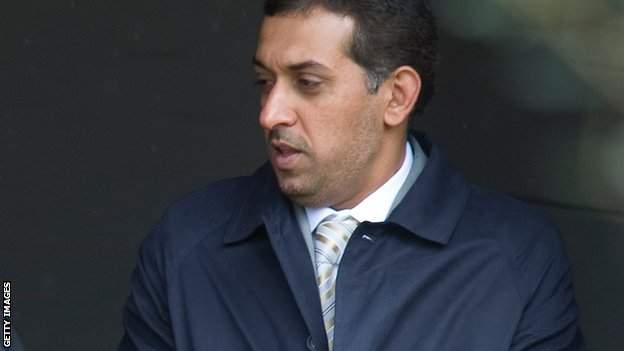 Godolphin trainer Mahmood Al Zarooni has been charged after tests found traces of anabolic steroids in 11 of his horses.
Al Zarooni will appear before a British Horseracing Authority (BHA) disciplinary panel on Thursday.
On Monday, the trainer admitted making "a catastrophic mistake".
The 37-year-old faces multiple counts related to prohibited substances, medical records and conduct prejudicial to horse racing.
According to the BHA he has admitted giving anabolic steroids to four other horses, but further doping charges cannot be brought as these animals were not tested.
Al Zarooni could lose his training licence in what has been described as one of the biggest doping scandals in British racing history.
Godolphin is overseen by the monarch of Dubai, Sheikh Mohammed, who appointed Al Zarooni, a former stable groom, three years ago. He is one of the group's two British-based trainers, the other being Saeed bin Suroor.
Simon Crisford, the racing manger for Godolphin, said in a statement on Monday that they were to urgently review all procedures and controls.
"His Highness Sheikh Mohammed was absolutely appalled when he was told and this is completely unacceptable to him," he added.
The BHA said that on 9 April this year samples were obtained from 45 horses trained by Al Zarooni at Moulton Paddocks Stables in Newmarket.
Subsequent analysis revealed 11 of the samples contained ethylestrenol and stanozolol, which are prohibited substances.
The 11 horses, who together have won more than $2m (£1.31m) in prize money, include unbeaten Certify. They have been suspended from racing for an indefinite period.
According to the BHA, Al Zarooni has told the investigators that in addition to the 11, Comitas, Sashiko, Vacationer and Tearless were also given one of the banned substances.
While doping charges cannot be brought, Al Zarooni is accused of rule breaches relating to medical records and his conduct for these incidents.
The BHA also disclosed details of its drug-testing procedures and revealed there had only been one other case of anabolic steroids found in a tested horse "in recent years". This resulted in trainer Howard Johnson receiving a in 2011.
"The use of anabolic steroids is prohibited at all times for any horse registered as 'in training' under the care of a trainer licensed by the BHA," it said.
In 2012, of the 90,174 runners on race days, 7,182 samples were taken. Some 14 positive tests were found, a figure down from 25 in 2010.
Around 700 tests were carried out during training in 2012, although the BHA did not disclose any details about the number of positive tests.
The National Trainers' Federation (NTF) said on Tuesday it was shocked at the doping scandal, though chief executive Rupert Arnold added that it was not symbolic of a wider culture of doping within the sport.