Godolphin doping scandal: A guide to the key issues
Last updated on .From the section Horse Racing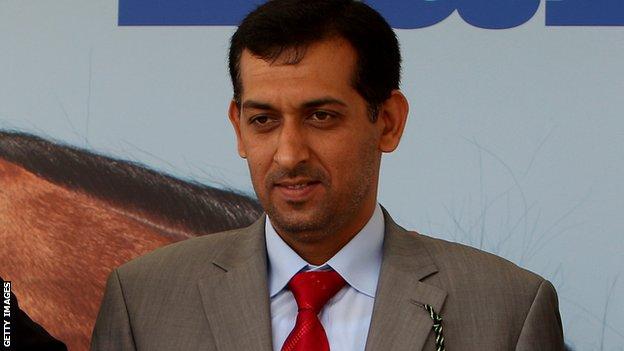 The Godolphin stable is at the centre of one of the biggest doping scandals in racing history.
Trainer Mahmood Al Zarooni faced a British Horseracing Authority hearing on Thursday after irregularities were discovered in 11 of 45 horses.
He has admitted to making a "catastrophic mistake".
Sheikh Mohammed, the head of Godolphin, has ruled that no horse from the affected stables will race until he is happy that they are "completely clean".
BBC Sport answers the key questions regarding the scandal.
What is Godolphin?
The thoroughbred racing stable was set up in 1992 by Sheikh Mohammed, and is the private stable of Dubai's ruling Al Maktoum family.
Since its formation in 1992, the Al Maktoum family's racing stable has won more than 200 top-level Group One races in 12 different countries.
Its UK stables are in Newmarket, where its horses have been under the care of trainers Saeed bin Suroor and Mahmood Al Zarooni.
Who is Sheikh Mohammed?
The 63-year-old is Prime Minister and Vice-President of the United Arab Emirates and the monarch of Dubai, taking all three roles following the death of his elder brother, Maktoum bin Rashid Al Maktoum, in 2006.
Sheikh Mohammed, who is worth an estimated £10bn, moved into British racing when he bought the Gainsborough Stud at Woolton Hill, near Newbury, in 1981.
The Sheikh has been a high-profile opponent of drug abuse in racing, with a representative of his stable in the United States resigning from the Breeders' Cup organisation over a decision not to ban anti-bleeding drug Lasix.
Who is Mahmood Al Zarooni?
A former stable groom, 37-year-old Al Zarooni had previously assisted the Godolphin stable's long-term trainer Saeed bin Suroor.
He became one of Godolphin's two UK-based trainers in March 2010, operating out of the Moulton Paddocks stables in Newmarket.
Al Zarooni won his first British Classic in 2011 when Blue Bunting landed the 1,000 Guineas under Frankie Dettori at Newmarket. The filly went on to claim the Irish Oaks.
What offences have been committed?
The British Horseracing Authority (BHA) took samples from 45 horses trained by Al Zarooni at the Moulton Paddocks Stables on 9 April.
Analysis by the Horseracing Forensic Laboratory found traces of the anabolic steroids ethylestrenol and stanozolol in samples from 11 of the horses.
Under British racing rules, horses cannot be given anabolic steroids at any time, whether in racing or just in training.
Do these rules apply worldwide?
No. In Australia, steroid use is allowed if the horses are out of competition. The rule is that they must not be present in the horse's system on race day.
The United States and Dubai also allow steroids to be administered out of competition.
But David Mountford, chief executive of the British Equine Veterinary Association, said that the British racing rules on steroid use leave no room for confusion.
He told BBC Radio 5 live: "The rules of racing are pretty clear in terms of what's allowed in horses in training in this country, and it's important to know that's not the same in Australia, the United States or Dubai.
"The use of anabolic steroids in training is banned in UK racing."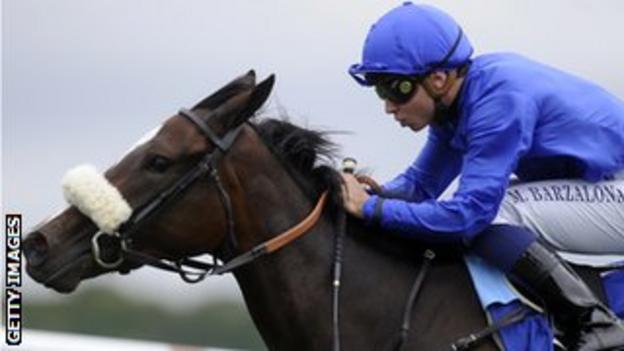 What are the effects of anabolic steroids on horses?
Racehorse trainer James Given explained to BBC Radio 5 live's Victoria Derbyshire Show this week how the steroids, which can be administered orally or by injection, can have a dramatic effect on a horse's performance.
"It's not just active while the drug is in the body - and certainly many of these drugs will persist in the body for several months - but it's the effect on the muscle development beyond its natural capacity," he explained.
"The horse can train harder while it's in receipt of the medication, and it also assists with recovery from injury.
"It is, without doubt, a performance-enhancing substance, and an unfair advantage is sought by using these drugs."
What were the charges against Al Zarooni?
The trainer faced multiple charges related to prohibited substances, medical records and conduct prejudicial to horse racing.
According to the BHA, Al Zarooni admitted giving anabolic steroids to four other horses, but further doping charges could not be brought as these animals were not tested.
Is there a precedent for this?
The BHA says it has found only one other case of a anabolic steroids in a tested horse "in recent years".
Trainer Howard Johnson was given a one-year ban in 2011 for using steroids on three horses.
Johnson was given an additional three-year ban on top of that for breaching rules on horse welfare.
How often are tests carried out?
Official figures state that between 600 and 700 tests were carried out last year as part of the 'testing in training' sampling programme.
There are around 20,000 racehorses in Britain, which equates roughly to a 1 in 28 chance of a horse being tested while in training.
In raceday testing for 2012, 7,182 of 90,174 runners were tested.
Which horses are involved in the Godolphin scandal?
The most high-profile is Certify, who had been scheduled to run in next month's 1,000 Guineas at Newmarket, but was one of seven horses to test positive for ethylestrenol.
Desert Blossom, Fair Hill, Ghostflower, Orkney Island, Sweet Rose, and Valley Of Queens were the other six horses to test positive for the substance.
Last year's Royal Ascot Gold Cup runner-up Opinion Poll was among four horses to test positive for stanozolol.
The other three were Artigiano, Bathrat Amal and Restraint of Trade.
How soon will the horses involved be able to race again?
The BHA has suspended the 15 horses involved for six months. The ban applies from when the stable was visited on 9 April and runs out on 9 October. It wants to ensure that any benefit the horses gained through the doping has gone through their system.
Sheikh Mohammed could also opt to retire Certify and the other 10 horses involved in the scandal, in order to avoid further controversy.
How had Sheikh Mohammed responded?
The monarch "locked down" Al Zarooni's stables by declaring that no Godolphin horse at Moulton Paddocks would race until he was happy that they were "completely clean".
In a statement published on Godolphin's website, the sheikh said: "I was appalled and angered to learn that one of our stables in Newmarket has violated Godolphin's ethical standards and the rules of British racing.
"I have been involved in British horse racing for 30 years and have deep respect for its traditions and rules. There can be no excuse for any deliberate violation."