Godolphin & Mahmood Al Zarooni: BHA to carry out further tests
Last updated on .From the section Horse Racing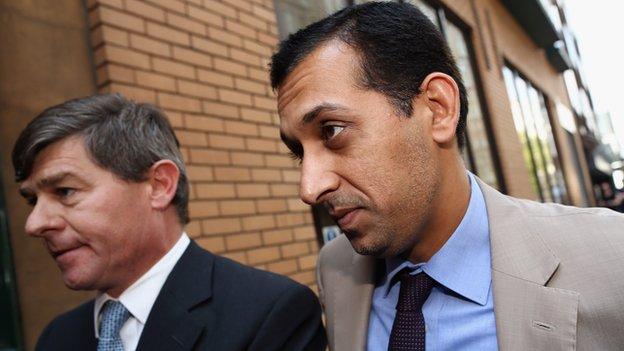 The eight-year ban for Godolphin trainer Mahmood Al Zarooni is only the "end of the beginning", says the British Horseracing Authority.
Fifteen horses trained by Al Zarooni were also suspended for six months after a doping hearing on Thursday.
The horses will be tested before being cleared to race and the BHA will seek worldwide consistency over drug use.
"It is not correct to say that is the end of the matter, far from it," said BHA chief executive Paul Bittar.
"I would term it the end of the beginning, in a way."
Al Zarooni was charged after tests found traces of banned anabolic steroids in 11 of his horses.
The 37-year-old also admitted at Thursday's hearing to doping four other horses at Godolphin's Moulton Paddock stables in Newmarket.
Godolphin is one of the world's leading racing operations, led by the ruler of Dubai, Sheikh Mohammed bin Rashid Al Maktoum.
The case has been described as one of the biggest doping scandals in the history of British horse racing.
Al Zarooni gave the steroids ethylestranol and stanozolol to his horses. He was also charged with violating rules related to medication records and with conduct prejudicial to the sport.
"The next objective for the BHA is to take all necessary steps to ensure that overall confidence in the integrity of the sport is not at risk," said Bittar.
Bittar revealed all of Al Zarooni's 45 horses at Moulton Paddocks Stables in Newmarket will be tested before being cleared to race again.
"There's a lot more work to be done with Godolphin in terms of their procedures and there's a lot more work for our team to do in terms of Godolphin's employees and contractors," he said.
"The BHA will conduct the testing of the horses with the analytical work being carried out by HFL Sport Science [and] Godolphin have stated they will co-operate fully with this process.
"In addition, we will also provide advice to Godolphin, of necessary changes to its procedures and controls where appropriate. This will be supported by Godolphin's own review."
Fifteen of the horses trained by Al Zarooni are now prevented from racing, including Certify, the former 1,000 Guineas favourite. All the horses will be clear to compete again from 9 October 2013.
The BHA also wants global conformity to drug use in the sport, as there are currently different rules for when substances can be given to horses depending on the country concerned.
The use of anabolic steroids is permitted for out-of-competition use in Australian racing, for example, to help recovery from injuries.
"There are inconsistencies across international racing jurisdictions regarding what substances are permitted to be used in training," said Bittar.
"While horse racing bodies quite rightly adopt a zero tolerance policy to the presence of anabolic steroids when carrying out post-race testing, the approach is not so consistent for horses in training."
Sheikh Mohammed, founder and boss of the Godolphin racing operation, had already announced he will "lock down" Al Zarooni's stable.
He has also ordered a review of internal procedures, and demanded a "full round of blood samples and dope testing done on every single horse on that premises".
He said: "I can assure the racing public that no horse will run from that yard this season until I have been absolutely assured by my team that the entire yard is completely clean."