AP McCoy: Champion jump jockey for 18th year running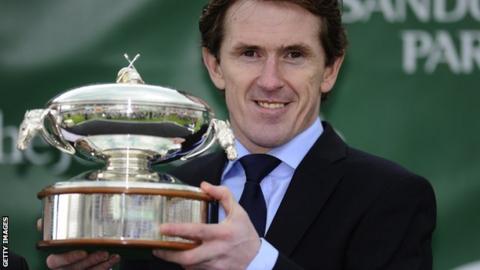 When champion jockey AP McCoy spent seven nights in hospital recently the thought of future victories may have eased the pain caused by broken ribs.
Winning is a drug which the Northern Irishman has overdosed on over the course of his career.
On Saturday, he will be crowned jump racing's leading rider in the UK for the 18th successive year. It is perhaps the longest winning run in sport.
Behind him for 14 of those years has been Richard Johnson, who bears no trace of bitterness, rather admiration for what could be his nemesis.
"His hunger for riding winners, whether it's a Monday or a Saturday hasn't changed. He's as determined as ever and still hard to beat," the 35-year-old Johnson told BBC Sport.
"He's viewed in the weighing room as a nice person probably as much as he is a brilliant jockey.
"He's very easy to get on with. You don't hear him shouting or squealing - he doesn't think he's better than anyone else."
McCoy is not a show-off. A product of down-to-earth parents Claire and Peadar from Country Antrim. She says AP's brother Colm did the partying as the teetotal jockey made the sacrifices of a slender diet in a dangerous profession.
With an average of one fall every 16 races, McCoy has gone down hundreds of times in his career. He knows any one of them could end his career, particularly with his landmark birthday of 40 approaching around this time next year.
The appetite is not waning. While the jump jockeys' championship carries no financial bonus, new records - such as 4,000 career winners - are there to be set.
"I do like to set myself targets and goals, and at the moment that (4,000) is the goal," he told the BBC in January.
"Who knows what happens after that but I am fully aware that I don't want to carry on too long and have people thinking I'm not as good as I was or I shouldn't be riding any more or past my best."
McCoy needs about 125 winners to reach a tally which has 10-time Irish champion Charlie Swan shaking his head when I mention it.
"I rode 1,300 winners and I was pretty jaded after that. Three or four times that is just amazing," said Swan, whose career included three Champion Hurdle wins at Cheltenham on Istabraq for owner JP McManus, who pays McCoy's wages.
"AP is an amazing man, so brave, so determined. Bravery is his biggest thing as well as being a very, very good jockey, a clever fella and a really nice guy.
"He's a very modest fella and has always been like that. I remember him when he was riding for Billy Rock and leading me up on a horse and was always a nice kid. He's never changed.
"Even then he was just so focused on horses. He just loved them. You can see when he's riding, he's so determined to win on any horse in any race. He has this will to win."
McCoy cannot be perfect. Who is? He is not always in the best form after a day of losers, for example - wife Chanelle once described it to me as "all picture and no sound".
Yet the 2010 BBC Sports Personality of the Year commands a respect among colleagues in the weighing room, many of whom simply call him 'Champ'.
"He speaks to a young lad having his first ride the same as he does to me, Barry Geraghty or Ruby Walsh. He's fantastic as a role model for younger jockeys," added Johnson.
"AP has brought racing forward for jockeys in terms of his fitness, determination and attitude is second to none. He's a credit to himself, but he's a great role model for the sport.
"For anyone to dominate any sport for the length of time he has is amazing really. You can't help but be impressed by what he's done in his career so far and I'm sure he's not ready to stop yet.
"It all depends on your body, how you feel in yourself and the rides you've got available.
"He's got good rides on a daily basis. He got a very nasty fall at Cheltenham but he's made of stern stuff. I'm sure he'll be back before you know it."
So does Johnson feel unlucky to be in the same era?
"It's not really his fault. It's my fault for not riding enough winners. I have to ride as many winners as possible and it's up to me to ride more winners than he does," he replied.
"The main ambition for me every season is to be champion jockey. I'll try as hard as I can."
All jockeys like Swan, Johnson and McCoy know age, injuries and courage are three factors in whether their careers are prolonged.
"Really it's as long as your body keeps going and your nerve keeps going. He's a very, very brave fella but it has to catch up with you after a while," said Swan of McCoy.
"He's just phenomenal. I've never see anyone like him."
McCoy hates being sidelined as he is currently. Time off the track means missed winners, and more notches on the way to the historic 4,000.
There is no time for jockeys to rest. The scores go back to zero on Sunday, when the 2013-14 season starts, a campaign in which McCoy will go for title number 19.