BHA chief: Out-of competition drugs testing needs ramping up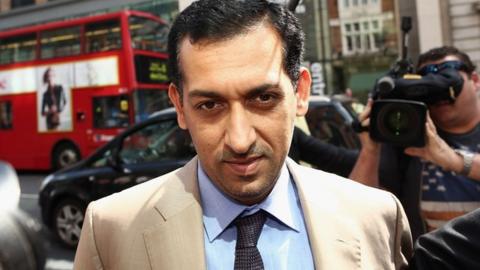 Drugs testing out of competition needs "ramping up" after the Godolphin doping scandal, says British Horseracing Authority chief executive Paul Bittar.
Trainer Mahmood Al Zarooni was banned for eight years after 11 horses tested positive for anabolic steroids.
"People in this country genuinely have a dim view about the use of these types of drugs," Bittar told BBC Sport.
"The testing in training programme, does it mean we need to ramp it up a bit? I think it does."
A second Newmarket trainer faces a BHA inquiry for giving racehorses banned steroids.
Gerard Butler told the Independent several of his horses had treatment for injured joints, but he had been assured the substance did not breach rules.
Official figures state that between 600 and 700 tests were carried out last year as part of the testing in training sampling programme.
There are around 20,000 racehorses in Britain, which equates roughly to a one-in-28 chance of a horse being tested while in training.
In raceday testing for 2012, 7,182 of 90,174 runners were checked - about one in 13.
But Bittar believes more out-of-competition testing is required.
Reflecting on the recent inquiries, Bittar said: "Do I expect this is the last drugs case we'll deal with? No, I don't.
"But do I think it's the tip of the iceberg? No, I don't.
"I certainly don't believe the use of anabolic steroids is widespread throughout the industry.
"The results have shown us that perhaps the balance of out-of-competition training as opposed to the amount of testing that we do on race days probably does need rebalancing.
"There is a case to be made for potentially more testing to be done and that's something we'll take up with our stakeholders and members who ultimately fund our budget."