Godolphin doping scandal may taint innocent people - John Berry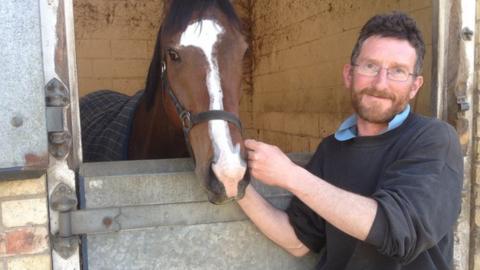 The Godolphin doping scandal may leave innocent people tainted by drug slurs, says Newmarket trainer John Berry.
Mahmood Al Zarooni, who trained horses for Godolphin in Newmarket, was given an eight-year ban last week
A second Newmarket trainer, Gerard Butler, faces a steroids inquiry.
"There is a danger all trainers in this town might be tarred with the same brush which would be wrong," said Berry who trains at Beverley House Stables.
He said he feared the 70 trainers in Newmarket might suffer and that 1,000 jobs might be lost if Godolphin's Sheikh Mohammed were to pull out of the Suffolk town.
Berry, a town councillor, added: "It's terribly unfortunate for British racing as a whole. The most obvious victim of Al Zarooni's transgression is Sheikh Mohammed and Godolphin.
"The training profession is a victim of all this - and in particular the trainers in Newmarket - but Newmarket's reputation should not be damaged at all.
"Mohammed Al Zarooni's reputation is in tatters, and deservedly so. I don't feel my reputation should have suffered because of this - if it has, that's unfortunate - but I would hope any doubts people might have about me as a trainer will not be long-lasting.
"I like to think I've spent a couple of decades as a trainer who plays by the rules."
Al Zarooni admitted to making a "catastrophic" mistake and the 210 horses formerly trained by him at Moulton Paddock Stables are in "lockdown" after Godolphin founder Sheikh Mohammed ordered an internal inquiry.
Godolphin's other yard, home of the operation's long-time trainer Saeed bin Suroor, was visited by a British Horseracing Authority (BHA) testing team on Thursday.
With Butler, who has about 30 horses at his stable, telling the Independent newspaper that he believed more than 100 horses in Newmarket were treated with the Sungate product which has led to him being investigated, many in racing felt other stables would be drawn into the scandal.
But it is understood the BHA does not have any active cases involving Sungate, although its Butler investigation continues and representatives of the veterinary practice concerned have been interviewed.
A BHA expert at the Al Zarooni inquiry said anabolic steroids are probably undetectable in a horse after 28 days, meaning the substance would probably have left the system by now, particularly as trainers were warned about its use in early March following the Butler visit.
"The likelihood of any further disciplinary action, I would have thought is slim because none of the others appear to have returned any positive dope tests, probably because they weren't tested," said Berry.
"In the future there definitely won't be more around this product because it won't be used again. That's hopefully a closed chapter and Gerard will be the victim of it."
He added that news that Al Zarooni had given banned anabolic steroids to 15 horses was like "hearing a colleague was charged with murder".
The racing community in Newmarket hope this weekend's action, with the 2000 Guineas on Saturday and Sunday's 200th running of the 1000 Guineas, will divert attention back onto the track.
Racecourse managing director Amy Starkey said: "We are hopeful of beating last year's crowd of 16,000 on Saturday, with another 14,000 the next day.
"The weather forecast is good and we have some fantastic line-ups for the big races, including Sheikh Mohammed's Dawn Approach, plus Toronado, in the 2000 Guineas.
"In Sunday's race we have a Newmarket runner in Hot Snap, trained by Sir Henry Cecil, while Just The Judge is owned by Sheikh Fahad, of the sponsors Qipco."
It has been a surreal build-up to the Classic weekend, as acknowledged by Berry.
He said: "The Flat season bursts into life this week, the first Classics of the year, the first Group One races in Britain. It should be a week for positive news, you would almost forget that was happening."