Newmarket: Sheikh Mohammed sees Dawn Approach victorious
By Frank Keogh
BBC Sport at Newmarket
Last updated on .From the section Horse Racing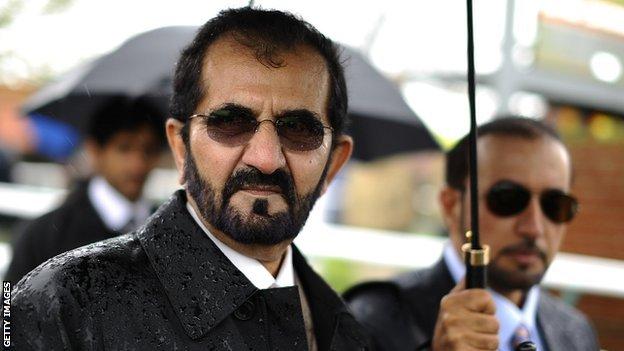 "Newmarket - where Frankel was foaled and forged," proclaims the promotional video at the National Horseracing Museum in the Suffolk town.
Here, rather tucked away off the High Street of British racing's thoroughbred capital, is a treasure trove of memorabilia and tales from the Sport of Kings.
The gun that former champion jockey Fred Archer used to kill himself, a sketch of racing greats fronted by legendary commentator Sir Peter O'Sullevan, jockeys' silks, trophies, paintings, newspaper front pages…
What will Newmarket 2013 contribute to the annals of horse racing history? The year its great home-grown equine star, Frankel started a breeding career; another breathtaking Classic winner on Guineas weekend; or a Lance Armstrong moment where doping took centre stage?
I've spent eight days, in two separate stays, over the last month in this slightly surreal East Anglian enclave, close to the Cambridgeshire border, where horses have the right of way.
It is unique, a town of about 18,000 people, and nearly 6,000 horses - about 3,000 in training and more than 2,500 at stud farms dotted around the town's exterior.
In winter, locals say the order of anti-frost gritting is horse walkways first, roads second and pedestrian paths third.
When the spring sunshine shed a sparkling spotlight on the Newmarket Heath and 30 training gallops this week, it was a stunning setting.
Hearing the sound of horses at dawn thundering up the Limekilns gallops, or just admiring these highly tuned animals walking majestically around Warren Hill in the hoofsteps of Frankel, six-lengths winner of the 2000 Guineas two years ago - these are sights and sounds to behold.
How could Godolphin trainer Mahmood Al Zarooni, until just 12 days ago one of the town's top trainers, have gone rogue and overseen a deliberate doping regime where anabolic steroids were given to these finely bred beasts? It beggars belief.
On Saturday, the town's Dubai-based benefactor Sheikh Mohammed - founder of Godolphin - made his first appearance at Newmarket's Rowley Mile track, or indeed any British racecourse, since the scandal broke.
He was given a much-needed lift as the brilliant unbeaten three-year-old colt Dawn Approach, which Godolphin co-owns with Irish trainer Jim Bolger, ran out an impressive five-length winner of the 2000 Guineas, the first Classic of the Flat season.
In the aftermath of victory, flanked by a team of advisers and minders perhaps 20-strong, the ruler of Dubai accepted the winner's trophy, smiled for the massed gathering of photographers and gave a three-fingered salute, which is said to represent "win, victory, love".
Journalists hovered, on edge, waiting for any chance to ask the vice-president of the United Arab Emirates his thoughts on victory, although the question on many minds would be the follow-up - the scandal that has blighted his organisation.
Channel Four racing presenter Clare Balding, who has dealt many times with this powerful and influential figure, approached, and while reluctant, he gave his brief take on victory.
But when the matter of the British Horseracing Authority's ongoing investigation into the Godolphin scandal, after Al Zarooni's eight-year ban for doping 15 horses, was raised he replied: "That's up to them," and turned sharply around.
Dressed immaculately in a beige suit, the sheikh - whose Godolphin team has been used to market Dubai globally as a top international destination - later told journalist Sue Montgomery, of the Independent: "I am from the Arabian peninsula. We face a challenge."
Bolger, based in County Carlow, celebrated the first 2,000 Guineas of his career with a horse in which his share is 49% and Godolphin's 51%.
"Sheikh Mohammed has always been very good to me and to my yard and I was hoping that we could deliver for him," he said.
"But I don't think Sheikh Mohammed has as much to be concerned about as other people think. Nobody can be responsible for what somebody else does.
"I haven't been surprised by the coverage this week but I don't think that the person at the top can be responsible for everything."
Newmarket has reaped the benefits of Sheikh Mohammed's patronage as he has invested millions in two stables, with a total of more than 400 racehorses, the Darley Stud breeding arm, a pre-training yard and other facilities.
What would happen in the unlikely event he withdrew from racing, disgusted by recent events?
"The town would go from a fairly healthy buoyant state to a depressed state. It would probably lead to 1,000 job losses," said local trainer John Berry.
"I hope Newmarket's reputation as a centre for excellence in the racing industry for 350 years is not damaged. I would like to think it would take more than one bad individual to destroy that."
At the National Horseracing Museum, the Sheikh's Maktoum family have their own place, a description of their influence alongside a logo for the Racing Post newspaper, which he founded.
"Some people feel that the Maktoum family have distorted the market through their sheer buying power, whilst others recognise the positive local impact of their investment in racing," it says.
"No owners before have ever had so many horses in training, leading to significant local employment in the industry."
My first memory of Newmarket dates back to the mid-1970s when legendary jockey Lester Piggott was in his pomp.
Back then, sheikhs with hundreds of racehorses in the town, and yards employing a selection of India, Pakistan and Poland-born riders would have been unthinkable.
But it was a time with its own troubles - as coverage of the 1975 'Battle of Newmarket' testifies.
Imagine today a sit-down protest on the track by striking stable lads in a bitter pay dispute, picketing racegoers as they arrived and digging craters in the course overnight using a stolen bulldozer. Or a top jockey being pulled off his horse after riders approached the protesters.
That's what happened 38 years ago, almost to the day. Nearly three months later, a settlement was reached but three-quarters of the 200 striking stable staff lost their jobs.
Those who remained had an improved weekly wage of £37. It is all a far cry from the £100m price tag Frankel has as he continues the first season of a breeding career where his services earn £125,000 a time.
What the cost, if any, to Newmarket will be of the doping scandal remains to be seen.
His Highness Sheikh Mohammed Bin Rashid Al Maktoum is known by his many employees as The Boss. He may not have quite been rocking and rolling like Bruce Springsteen but in Dawn Approach, at least he has a winner who is born to run.