Richard Hughes 1000 Guineas win proves he is the boss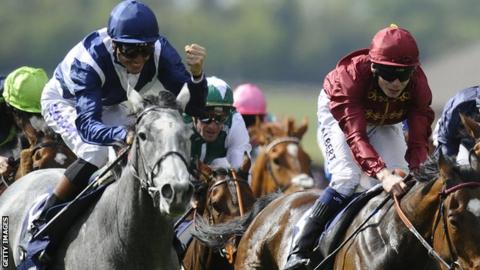 Victory in the 200th running of the 1000 Guineas has capped the remarkable renaissance of champion Flat jockey Richard Hughes.
The Irish rider's first British Classic win, on the grey filly Sky Lantern, was also a maiden success for his father-in-law, trainer Richard Hannon.
Hughes and Richard Hannon junior, who is about to take the training reins from his father, were part of warm celebrations after the 9-1 shot was led into the winner's enclosure at Newmarket on Sunday.
And while the jockey took it in his stride, at 40 he was putting the seal on an amazing turnaround that saw him tackle a serious drink problem to win his maiden jockeys' title last year and ride a record-equalling seven winners in one memorable day at Windsor.
With it has come a change in attitude from one where, as he acknowledged, he "thought people ran racing for me".
There were times in the past - probably as long as a two-year period - when Hughes just did not enjoy being a jockey and the stress of keeping his weight down, but all that has changed.
His father Dessie, a leading National Hunt trainer in Ireland, told me: "He deserves it - he's riding well. The thing is he loves riding now, just absolutely loves it.
"It was a good ride and the filly was very brave. She dug in a couple of times for him.
"He's been here long enough now; he thought he had to ride an English Classic some time."
At 5ft 10in, Hughes is very tall for a Flat jockey and his battle with alcoholism, partly sparked by a punishingly sparse diet, was frankly addressed in his 2011 autobiography A Weight Off My Mind.
Talking to the BBC two years ago, he said: "If I had a bad day, I would get drunk. If I had a good day, I would get drunk.
"Alcohol is cunning and baffling. When you're off it a long time, you actually begin to believe you are OK. On a daily basis, I remind myself that I am an alcoholic and it's not OK."
With their marriage under strain, his wife Lizzie urged him to get help.
"I caught him in the doorway, halfway in and halfway out. I walked up and really thought he was dead, or someone had attacked him," said the mother-of-two, who is a hat designer.
"I kept hounding him and said you've got a problem - you've got to see someone about it."
After periods of denial, Hughes sought help, got back to his best, shrugged off a 50-day ban for a riding infringement in India, and won the jockeys' championship for the first time last year.
The best jockeys have confidence running through them and Hughes now radiates a relaxed air, but there was a fist-pump of delight as he and Sky Lantern crossed the line ahead of Just The Judge and Moth in a thrilling fillies' Classic.
The favourite Hot Snap from 10-time champion trainer Sir Henry Cecil's yard was out of the places, having beaten Sky Lantern into second in last month's Nell Gwyn Stakes at Newmarket with what Hughes described an an "ordinary" ride.
"Things didn't go right the last day I rode her - and I should have won on her in America [at the Breeders' Cup last November]. But I always believed in this filly and she came good."
"I just went out there today feeling happy-go-lucky and it worked. It's a super day," he said.
There was a warm buzz of excitement as supporters welcomed in Sky Lantern, who is trained near Marlborough in Wiltshire.
Hannon junior has a personable air, one of a younger generation of trainers who see the media as an opportunity to promote their work, rather than an obstruction to the business in hand.
But he was clearly disappointed by the fourth-placed finish of the stable's highly rated Craven Stakes winner Toronado in the 2000 Guineas the previous day.
Asked whether winning the fillies' Classic made up for that, he replied: "No, but we're absolutely delighted with this.
"We were gutted with that horse yesterday. He hasn't run his race and we've got to find out why now. He's still a very, very good horse and she's still a very, very good filly.
"She's a massive filly. You could argue she is a little bit plain but she has a great heart and tries very hard."