Godolphin doping: Trainer Mahmood Al Zarooni to appeal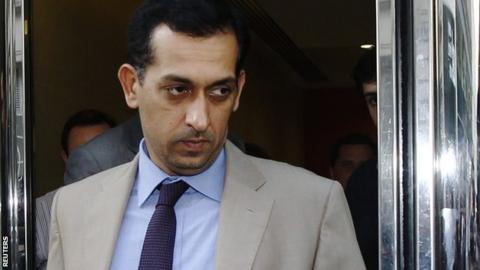 Former Godolphin trainer Mahmood Al Zarooni is to appeal against the length of his eight-year ban for doping racehorses.
The Dubai-born trainer, recruited by Sheikh Mohammed's racing operation in March 2010, has admitted giving banned anabolic steroids to 15 horses.
Al Zarooni, 37, was banned following a disciplinary hearing convened three days after news of the scandal broke.
A date has not been set for an appeal to the British Horseracing Authority.
News of Al Zarooni's appeal comes 15 days after details first emerged of the scandal, which has rocked horse racing.
On Monday 22 April, Godolphin issued a statement in which it said 11 horses, including unbeaten 1000 Guineas contender Certify, had tested positive and Al Zarooni admitted a "catastrophic mistake".
A disciplinary hearing took place on 25 April when the trainer - formerly based at Moulton Paddocks stable in Newmarket - was banned for eight years after also admitting to doping another four horses.
The trainer said he had not been aware anabolic steroids were banned at all times in British racing. In other jurisdictions anabolic steroids are allowed under certain circumstances, such as in Dubai where racehorses are not allowed to race for 28 days after use.
In the findings of the panel, published on 30 April, Al Zarooni was accused of "deliberate flouting" of the rules and "widespread systematic misuse of illegal substances".
The trainer said he smuggled the anabolic steroids into the UK in his luggage from Dubai, made up five unmarked syringes full of drugs and passed them to an unqualified veterinary assistant through a car window to inject into the horses. He told the inquiry he put the steroids in the feed of other animals.
All 15 horses he admitted doping have been banned from racing for six months until 9 October.
The BHA tested 45 animals during their 9 April visit, and tested the remaining 160 or so on 29 April.
Moulton Paddocks has been on 'lockdown' - on the orders of Dubai ruler and United Arab Emirates vice-president Sheikh Mohammed bin Rashid Al Maktoum - for about a fortnight.
Godolphin has been conducting an internal inquiry, while the BHA says its investigation is continuing, and a team carried out tests at the Newmarket stable of fellow trainer Saeed bin Suroor on 2 May.
BHA chief executive Paul Bittar has told the BBC he expects the results of all these tests to be announced on or around 15 May.
Al Zarooni will be represented at the appeal hearing by William Clegg QC, instructed by Russell-Cooke Solicitors of London.
Gavin Bacon, of Farrer & Co, had been instructed to prepare Al Zarooni's case before the original case, but it was announced on the morning of the hearing that he would not be legally represented.