Frankie Dettori: I feel like Lance Armstrong after drugs tests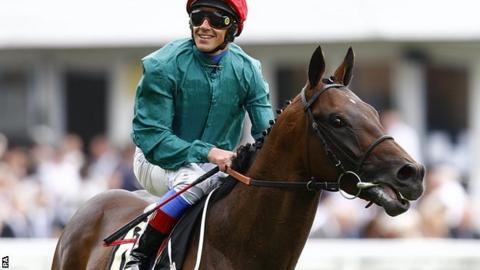 Three-time champion jockey Frankie Dettori says he "feels like Lance Armstrong" as he prepares for a return to action after a six-month drugs ban.
Dettori was suspended worldwide after testing positive in France for cocaine.
The 39-year-old told Channel Four News he had been drug tested 15 times in the last two months, adding: "They come and knock on my door any time of the day."
Drugs cheat Armstrong was banned from cycling and stripped of his seven Tour de France titles in August 2012.
Dettori, who was cautioned by police for possessing cocaine in 1993, said he took the drug almost 20 years later as a one-off in "a moment of weakness".
He plans to return at Leicester racecourse on Monday evening, provided French racing's governing body France Galop give him the go-ahead, as expected.
Dettori will come back as a freelance after his 18-year association with the Godolphin team - one of the world's leading racing operations and owned by ruler of Dubai Sheikh Mohammed - ended in October 2012, two months before his ban.
The jockey, who rode a record-breaking seven winners from seven rides at Ascot in 1996 and is famous for his flying dismounts, said he turned to cocaine as his career faltered.
He had been Godolphin's number one jockey for 17 years until they recruited younger riders Mickael Barzalona and Silvestre de Sousa last year.
Dettori said the successful relationship had started to change after 2010 when Sheikh Mohammed recruited a second trainer, Mahmood Al Zarooni, to work at another Newmarket stable in addition to Saeed bin Suroor.
"Up until about two years ago I was having the best time of my life... and then for some reason things have changed. We had a new trainer, new way of doing things and I didn't know whether I was in or out," he said.
Last month, Al Zarooni admitted doping 15 horses earlier in 2013 and was banned from racing for eight years. He is appealing against the severity of the ban.
When the younger jockeys were brought in, and Dettori was left down the pecking order ahead of the 2012 Epsom Derby, the rider's mood deteriorated.
"My first 17 years of my riding career [at] Godolphin, I was always the number one pick. All of a sudden I saw myself being the fourth in the biggest race in the world and it started from there and it was never an explanation why and what, you know. I had to accept it for unknown reasons," he said.
Dettori tested positive for cocaine at Longchamp racecourse the day after finishing third on Michelangelo, trained by John Gosden, as Al Zarooni's 25-1 shot Encke won the St Leger at Doncaster to deny 2000 Guineas and Derby winner Camelot the Triple Crown.
"My head was wrecked, absolutely wrecked. I couldn't take it anymore," said Dettori.
Dettori split with Godolphin soon after choosing to ride Camelot in the Prix de l'Arc de Triomphe for their fierce Irish rivals Ballydoyle and trainer Aidan O'Brien.
"In hindsight I should have perhaps confronted Godolphin and asked them the reasons," he said.
"Or perhaps do things different ways. But things just spiral out of control. It's amazing when you analyse everything back - it just all happens and you get yourself in a rut.
"Like I said, perhaps I did things the wrong way. It was a cry for help."
Dettori said the first person he called after learning of his failed test was his father, former jockey Gianfranco, in Italy.
"Dad is just an old-fashioned person. He thinks failing a drug test means you are an addict and should go to the Priory," he said.
"I said 'Dad, listen. It was a one-off and I made a mistake.' Trying to explain that to your parents is a different ball game."
The father of five said his wife Catherine was "devastated" by the news.
"She's part of me and the next step is to tell the children. It was difficult. Most of our children are young and don't take it on board. It's more embarrassing for myself than them; I let them down," he added.
Dettori said he had been unable to speak to Sheikh Mohammed since the split, and that Al Zarooni had damaged the Godolphin brand.
"I didn't want to leave; trust me I was the happiest person in the world. They forced my hand to leave. Another six months there and I would definitely have ended up in the Priory. I was done in," he said.
"I stopped in Dubai because I wanted to shake hands with Sheikh Mohammed, my patron for 18 years, and say thank you for all the good things he did for me, but for some reason or another he was too busy."