Frankie Dettori comeback delayed at end of six-month ban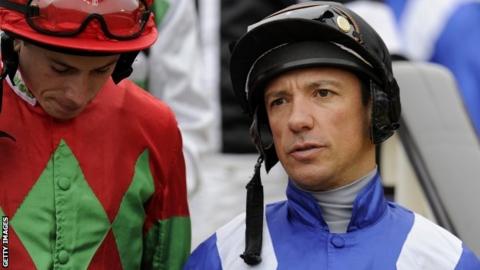 Three-time champion jockey Frankie Dettori has had his comeback delayed at the end of a six-month drug ban.
Dettori was suspended worldwide after a positive test for cocaine following a race in France last September.
The 42-year-old was due to return at Leicester racecourse on Monday.
But the British Horseracing Authority (BHA) said French racing's governing body, France Galop, was "not prepared to sanction him as fit to ride until a meeting with their medical committee".
The BHA added: "Consequently, in line with the position outlined to Dettori by the BHA's licensing committee at their meeting on Tuesday 14 May, and in the absence of clearance from France, no licence will be issued while such matters remain outstanding.
"BHA is seeking further clarification from France Galop but is unable to make any additional comment at this time."
France Galop's head of media relations, Julien Pescatore, had said earlier that while Dettori cannot ride in France pending clarification on an unspecified matter, he was allowed to ride in Britain.
"We are just waiting for his medical file to be completed. We are awaiting some extra details from Frankie Dettori himself.
"This means he's still not able to ride in France but, as of Monday, he can ride in England."
Dettori, who was cautioned by police for possessing cocaine in 1993, said he took the drug almost 20 years later as a one-off in "a moment of weakness".
The Italian told Channel 4 News he "feels like Lance Armstrong" after being drug tested 15 times in the last two months, adding: "They come and knock on my door any time of the day."