Godolphin doping: St Leger winner Encke among seven positive tests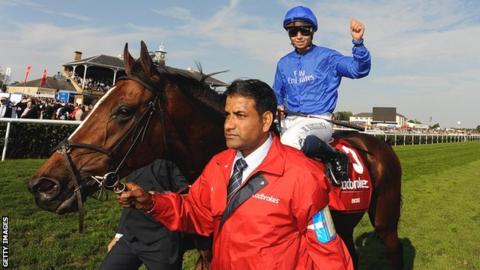 The doping scandal involving Sheikh Mohammed's Godolphin operation has widened after seven more racehorses failed tests for anabolic steroids.
All seven horses, including the 2012 St Leger winner Encke, were trained by the now disgraced Mahmood Al Zarooni.
He is appealing against the severity of an eight-year ban, imposed last month, after admitting doping 15 horses.
Tests on about 200 horses at a stable run by fellow Godolphin trainer Saeed bin Suroor came back negative.
The new results take the total number to 22 of Godolphin-owned thoroughbreds which have been doped, and are consequently suspended from racing for six months.
Godolphin - founded by the ruler of Dubai, Sheikh Mohammed - is one of the world's biggest racehorse operations with two major stables at Newmarket in Suffolk.
Racing manager Simon Crisford said: "It is obviously very disappointing that seven further horses have tested positive for stanozolol."
Encke, who passed a drugs test after victory in the St Leger at Doncaster in September 2012, was the surprise 25-1 winner of the race when he denied the Aidan O'Brien-trained Camelot a Triple Crown of Classic victories.
Al Zarooni, who was in Dubai before taking over the Moulton Paddocks stable in Newmarket in March 2010, claimed he did not realise the use of anabolic steroids were banned out of competition in the United Kingdom.
After his admission of a "catastrophic" mistake, the British Horseracing Authority (BHA) suspended the 15 horses he admitted doping, including 1000 Guineas contender Certify, from running for six months.
The BHA ordered tests on the remaining horses at his stable and also at the Newmarket yard run by Saeed Bin Suroor "for the sake of completeness", although there is no suggestion there has been any wrongdoing at the second stable.
"These results highlight why H.H. Sheikh Mohammed took the decision to lock down the stables at Moulton Paddocks until every Godolphin horse in training at Newmarket had been tested," added Crisford.
"All of Saeed bin Suroor's horses have tested clear and we are working with the BHA to put everything back in order at Moulton Paddocks."
Between 29 April and 2 May, blood samples were taken from 391 Godolphin horses and sent for analysis at the HFL Sport Science drugs laboratory.
The tests identified further positive tests for stanozolol, a banned anabolic steroid, in seven horses: St Leger victor Encke, Royal Ascot winner Energizer, Genius Beast, Improvisation, Stamford, Steeler, and Zip Top.
Godolphin and Al Zarooni - via his solicitors - have been informed of the test results and have until Thursday to decide if they want B sample analysis to be carried out.
If the results are confirmed, all seven horses - as with the previous 15 - will be suspended from running in Britain for a period of six months, until 29 October.
The BHA has approved an application for Bin Suroor to take charge at Moulton Paddocks, which means horses formerly trained by Al Zarooni could run for him in a fortnight's time.
Meanwhile, the BHA is investigating a second Newmarket trainer, Gerard Butler, after nine of his horses tested positive for an anabolic steroid contained in a substance called Sungate which he said was recommended by a veterinary practice.
Al Zarooni, who was not legally represented at his original disciplinary inquiry, has appealed against the severity of his ban. The BHA says no date has been set for the hearing, but it will not take place until the final week in June at the earliest.
BHA director of integrity Adam Brickell said: "We will not be taking any separate action in respect of these additional positive results whilst Mr Al Zarooni's appeal process is ongoing."
Al Zarooni was banned on 25 April, just three days after it was announced 11 of 45 horses tested at Moulton Paddocks were positive for banned anabolic steroids. He admitted doping another four.
Some observers had questioned the speed of this hearing, but BHA chief executive Paul Bittar said the revelations that there had been further positive samples "endorsed the swift action."