Frankie Dettori's solicitor wants BHA to reconsider delay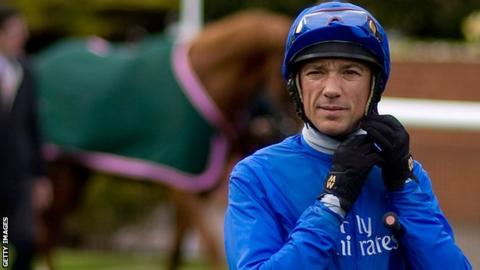 Frankie Dettori's solicitor wants the British Horseracing Authority licensing committee to reconsider its decision to delay the jockey's return to action.
The BHA is waiting for the French racing authorities to renew his licence which was delayed by "medical issues".
Dettori, 42, was given a six-month ban after testing positive for cocaine in September following a race in Paris.
Christopher Stewart-Moore said: "What we are are looking for is a further hearing with the licensing committee."
The solicitor added: "The committee has already decided he is fit and ready to race, and there should be nothing to stop him."
Dettori's return to action has been delayed as France Galop - French racing's governing body - seek talks with the former champion jockey.
Media relations manager Julien Pescatore said: "We're waiting for him to get back to us over medical issues."
Stewart-Moore confirmed he is waiting for a response from the BHA about a further meeting and added: "Frankie is very willing to pay for, and subject himself to, further tests in the first six months of his return."
The BHA stopped Dettori's proposed comeback at Leicester on Monday because of the issue with France Galop.
The jockey's representatives are keen to get the Italian-born rider back in action ahead of the Derby on 1 June, and he had hoped to ride at Nottingham on Tuesday and Lingfield and Kempton on Wednesday.
"It remains the situation that the BHA is awaiting either clearance from France regarding Frankie Dettori or an understanding of the reason why France Galop does not consider him fit to ride," BHA spokesman Robin Mounsey said.
"At present France Galop is exercising its right not to disclose this information.
"Clearance from France was always one of the criteria needed before Dettori could be issued his licence to ride in Britain and this was made clear by the BHA's licensing committee at its meeting with Frankie Dettori on 14 May."
BHA chief executive Paul Bittar told Australian radio station RSN Racing & Sport: "We are really looking forward to having Frankie back once he's cleared all the hurdles in France, and hopefully he does.
"Frankie is probably the best-known jockey in the world. He's been a great ambassador for British racing for a long time and we are fortunate that we have many of the world's leading riders based here in the summer."