Sheikh Mohammed to criminalise use of anabolic steroids in UAE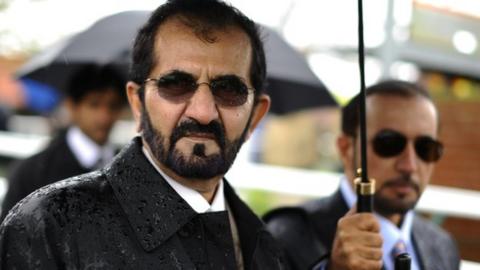 The ruler of Dubai, Sheikh Mohammed, says giving anabolic steroids to horses will soon become a criminal offence in the United Arab Emirates.
The Sheikh owns the Godolphin stables where 22 horses have failed tests for drugs this year.
Mahmood Al Zarooni, one of Godolphin's trainers, was banned for eight years in April after 11 horses tested positive.
"I have always believed in the integrity of horse racing and all other horse sports," said Sheikh Mohammed.
"I have, in light of the unfortunate recent event, directed that a decree be issued making, with immediate effect, the import, sale, purchase or use of anabolic steroids in horse sports a criminal offence under the UAE penal laws."
Godolphin is one of the world's biggest racehorse operations with two major stables at Newmarket in Suffolk.
The Sheikh, who is also the prime minister of the UAE, said last month he was appalled and angered about the positive tests for the anabolic steroid stanozolol.
Samples were taken from 45 horses trained by Al Zarooni at the Moulton Paddocks Stables in Newmarket with 11 testing postitive. That led to Al Zarooni, who also admitted doping another four horses, being handed his eight-year ban.
Sheikh Mohammed temporarily closed the Moulton Paddocks stables and ordered the testing of all horses in Al Zarooni's care.
On Monday it was revealed that seven more Al Zarooni horses, including the 2012 St Leger winner Encke, had failed tests.
Tests on around 200 horses at a stable run by fellow Godolphin trainer Saeed bin Suroor came back negative.
Rules on using drugs in horse racing vary around the world. Anabolic steroids are, at present, permitted out of competition in the UAE.
Despite the scandal, Sheikh Mohammed insisted that Godolphin would recover.
"Regrettably, one of my stables in Europe has recently fallen below the standards that I expect and will tolerate.
"As soon as the internal investigations are complete and the requisite pre-emptory rules are put in place, Godolphin will go from strength to strength and lead, once again, adherence to the highest standards in that gracious sport."