Eddie Ahern contests 10-year racing ban
Last updated on .From the section Horse Racing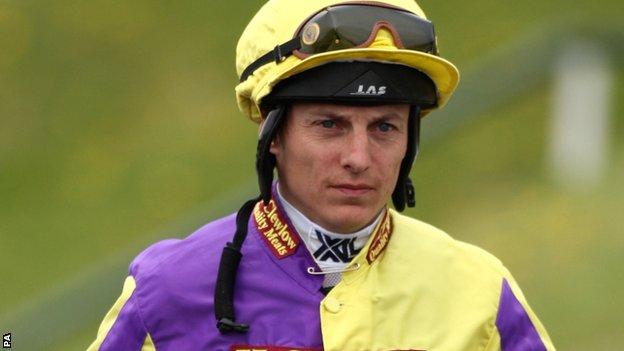 Jockey Eddie Ahern has lodged an appeal against a 10-year ban given to him by the British Horseracing Authority.
Ahern was found guilty of conspiring to commit a corrupt or fraudulent practice, intentionally failing to ensure a horse was ridden on its merits and of passing information for reward.
The BHA tweeted that Ahern had contested the verdict of breaching rules - and the punishment.
"The date of the hearing will be announced in due course," it added.
The Professional Jockeys' Association said on Thursday that it would support an appeal from Ahern.
"Eddie is adamant he is not guilty," said PJA chief Paul Struthers.
"We are supportive of this position given concerns over the judgement."
Ahern, who has ridden more than 1,000 winners in Britain, was found guilty of conspiring to commit a corrupt practice relating to the 'laying' of five horses between September 2010 and February 2011.
The gambling practice of 'laying' involves betting against a horse to win.
He was also found guilty of preventing his ride Judgethemoment from obtaining the best possible position at Lingfield in 2011.
However, the 35-year-old has now appealed against the BHA's findings and the ban's severity, with the PJA saying it had "concerns over the judgement and written reasons of the disciplinary panel".
"It would be inappropriate to go into specifics at this stage pending his appeal," said Struthers, who added that those found guilty of corruption through "robust evidence" should be given lengthy bans.
"It is the PJA's role to support its members prior to and leading up to any disciplinary proceedings, and to provide any subsequent advice and non-financial support that is required following the conclusion to those same proceedings.
"Our condemnation of corrupt conduct does not alter that, particularly so when a member is appealing."
Former West Brom footballer turned owner Neil Clement was also banned for 15 years by the BHA.
He was found guilty of breaching rules relating to the five Ahern races, with the jockey believed to have passed on information for the ex-footballer to use for lay betting.
James Clutterbuck, the son of Newmarket trainer Ken, who was handed a 30-month disqualification in April after admitting to conspiring with Clement, has also appealed.