Frankie Dettori makes low-key return at Epsom after drug ban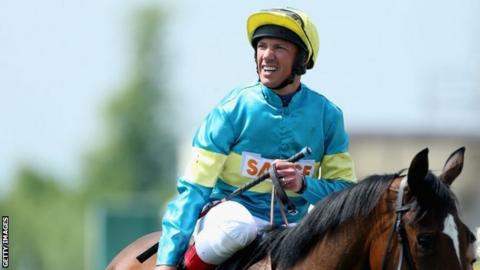 Jockey Frankie Dettori failed to shine on his return to racing after serving a six-month drugs ban.
The 42-year-old finished well down the field in his three rides at Epsom on his first day back after suspension.
He was last in the first race on Beatrice Aurore and fared little better on both Fattsota and Sri Putra.
But the Italian said he was "delighted" to be back in the saddle, adding: "I have missed riding, missed the guys, missed the buzz of the racing."
He added: "What's past is past, I've served my time and now it's time to crack on."
Dettori, who has more than 3,000 career wins, tested positive for cocaine in France on 16 September and was given a six-month ban.
He had been due to return earlier this month but he had to wait until receiving final clearance from France Galop.
Following Friday's racing he was asked to clarify what had caused the delay - France Galop would only say a "medical" matter had delayed his clearance to ride again - but declined the opportunity.
He does not have a ride in Saturday's Derby but is due to be on board First Cornerstone in Sunday's French equivalent.
"It's been a long six months, it's been really hard. It's a shame I couldn't get a Derby ride but it's three weeks until Ascot," said Dettori.
"Trying to get my first winner is my first priority.
"As soon as I got on the horse it was back to business and like I had never been away. It was nice to get a welcome back from everyone.
"I'm surprised how well I've done considering my fitness. I still need to shed about two or three pounds.
"I'm afraid a little bit for the future but I'm positive, have a good clear head and am looking forward to the challenge."
Dettori also revealed that his journey to the Surrey racecourse was not straightforward.
"I was very nervous coming down and then I got stuck in traffic so it was panic stations and I ran the last three furlongs down the track to get here on time," he said.
"I feel as fit as I could be but I haven't ridden for a long time."