Frankie Dettori: Jockey back in saddle for new chapter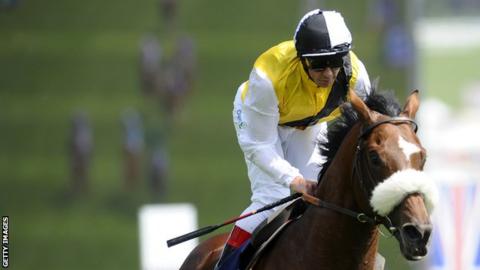 As comebacks go, it was not quite Rocky, although Frankie Dettori had the look of a lightweight boxer in a sparring session as he faced the press for the first time
"I've missed you guys," opened the three-time champion jockey, straight from the Epsom weighing room after his third ride back, with a blue towel draped around his shoulders. Still a light tone to his voice, but a seriousness in the eyes.
Dettori transcends racing. He is a celebrity, full stop. So his positive test for cocaine in France last year, in what he called a "moment of madness" after being sidelined by Sheikh Mohammed's Godolphin operation, was big news.
Aside from a syndicated interview with the Daily Star and Express immediately after his ban, and a long chat with Clare Balding for Channel Four, he has not spoken to many of the journalists he used to see at racetracks on a regular basis.
Horse racing has been somewhat divided over the comeback of arguably its biggest star - those who relish the showman's return at a difficult time for the sport against some who believe his comeback detracts from others.
It was not the 42-year-old's fault that he should take centre stage on what should have been a day to concentrate on the horses themselves - Oaks Day at Epsom, featuring the world's oldest Classic, where Talent headed a 1-2 for trainer Ralph Beckett.
But Dettori is a man who has attracted publicity since he was a teenager, receiving a police caution for cocaine possession that he bounced back from until his latest misdemeanour.
It has been a life of highs, such as his record-breaking Magnificent Seven and countless big-race wins, to the lows of a devastating plane crash and this drugs ban.
Even his arrival back was not straightforward - delayed by 11 days because of a mysterious "glitch" with a drugs test carried out by French racing's rulers France Galop, and then nearly halted by a fog-bound helicopter and traffic problems on the day.
He made it just in time, but there were to be no trademark flying dismounts - he finished last, fifth and last in his three rides - before a news conference which lasted less than 10 minutes.
After a series of fairly innocuous questions about his return to riding, the Daily Mirror's David Yates - who has dealt with Dettori previously for a column in his newspaper - asked a question on many lips.
"Frankie, can you throw any light on this 'private matter' which everyone seems to be in the dark about? France Galop, it's not their policy to comment on it, but can you enlighten us to what's been going on? What was the difficulty over the last couple of weeks?" he asked.
The French rules are notoriously tough, with some over-the-counter UK medication on their banned list.
Dettori replied: "David, I have been going through this for the last six months and I'm fed up talking about it. To me, I'm all clear and I want to move forward.
"I'm pleased to see you all. I want all positive thinking now. Thanks very much."
Journalists huddled round as he made to leave, eager for more chat.
"When someone takes away something you have been doing for 25 years, you don't realise how much you've missed it and I've missed racing a lot," he said.
"I'm very pleased with my fitness. It's something I've been doing all my life and I've slotted in really well. I'm looking forward to the new challenge."
Father-of-five Dettori said at the time of his positive test that he let his wife Catherine and children down.
On Friday, he told of enjoying time with them in recent months, but the pain of missing the Dubai World Cup meeting in March - scene of one of his great triumphs in 2000 on Dubai Millennium.
Much has changed since Dettori tested positive in September 2012. Before the news emerged, his 18-year association with Godolphin ended.
In April, Mahmood Al Zarooni - recruited by Godolphin to train from Newmarket in a second stable to Dettori's long-time ally Saeed bin Suroor - was banned for eight years after admitting giving banned anabolic steroids to 11 horses.
Another 11 were also found to have been doped, and Sheikh Mohammed - the ruler of Dubai - has since criminalised their use in equine sport in the United Arab Emirates.
Dettori had told Balding he tried during a trip to Dubai in November to contact the sheikh, who was "too busy", but he appears to have enduring respect for his long-time employer.
"I'm freelance now and it is a new challenge. I worked for one firm for 18 years," said the Italian-born rider who has made England his home.
"I'm most grateful to Sheikh Mohammed for all his kindness. It is something I will never forget."
Depending on your view, Dettori's ban was either a harsh punishment for a recreational drug or just desserts for flouting the rules.
His original intended comeback on 20 May caused controversy when Leicester racecourse announced plans to name a race after him.
The proposal was vetoed by the British Horseracing Authority, already dealing with a doping scandal and corruption cases, fearing it might send out the wrong message.
His late clearance for Friday led to three riders being "jocked off", or replaced at the last minute, by Dettori, including six-time champion Kieren Fallon, 48, who himself has served two bans after testing positive for cocaine.
The third booking, on Sri Putra, deprived regular rider Neil Callan - who boasts an excellent record around Epsom - of the mount.
"I don't get involved in the politics," was Callan's diplomatic answer after winning the preceding race, although he did retweet supportive comments from users on the social networking site Twitter.
BBC Radio 5 live reporter Kate Grey spoke to several Epsom racegoers about how they viewed Dettori's return.
"I couldn't find anyone who didn't want him back. The general view seemed to be he paid his dues, and he hadn't been cheating," she said.
"One or two said it was great he was here but didn't like the way he was given the rides of other jockeys who have worked hard over the last six months."
Britain's leading female jockey Hayley Turner predicted Dettori would knuckle down and prove his worth in the saddle.
"He brings a lot of energy to the weighing room, and it's good to have him back," she told me.
"He's had a lot of time to get fit, he'll be switched on and will be hungry for winners."
Those winners will not come on Derby Day at Epsom on Saturday - Dettori is sitting it out as he prepares to ride First Cornerstone in the French Derby at Chantilly on Sunday.
"The deadline was too close to the Epsom Derby unfortunately, for owners and trainers, to get me a ride having been unable to for so long," he said.
"The Derby is an important race but it is not the end of the world."
And on that note, Dettori does have perspective. The end of his world nearly came 13 years ago when he survived a plane crash on 1 June 2000, in which the pilot died.
And while his racing world may have caved in over the last few months, he now has the chance to provide a new batch of memories.