Royal Ascot: The Queen's horse Estimate wins historic Gold Cup
By Karen Fazackerley
BBC Sport
Last updated on .From the section Horse Racing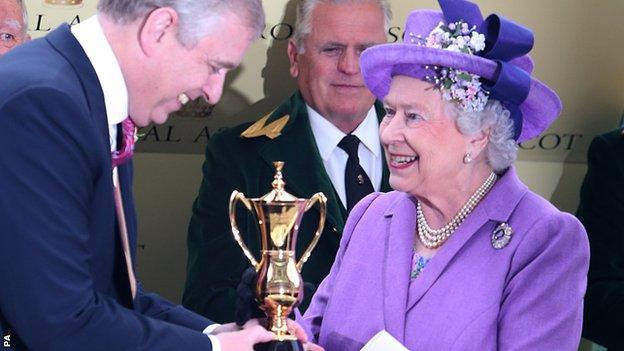 The Queen's horse Estimate claimed victory in Royal Ascot's Gold Cup - the first time in the race's 207-year history that it has been won by a reigning monarch.
The Sir Michael Stoute-trained four-year-old filly held off the challenge of Simenon over the final furlong.
Estimate won the Queen's Vase at Royal Ascot in 2012, before winning the Sagaro Stakes at Ascot in May.
Earlier, Riposte ran to an emotional victory in the Ribblesdale Stakes.
The first of the Queen's 21 Ascot winners came just two weeks after her coronation with Choir Boy in the 1953 Hunt Cup.
Peter Phillips, the Queen's grandson, told Channel 4: "It's amazing, this is her passion and her life and she's here every year and she strives to have winners.
"To win the big one at Royal Ascot means so much to her. Everyone is just thrilled, it's very close to her heart and today is very special."
Estimate did not get it all her own way, passing the grandstand for the first time it was Earl of Tinsdal who led with Estimate holding in the middle of the field in fifth.
With five furlongs to go the 7-2 favourite still sat in fourth, just behind El Salvador but when Colour Vision made his move with less than three to go Estimate was ready and pulled to her left, arguably causing interference to both the placed horses.
Estimate jockey Ryan Moore said: "All we had was this race in mind - it's great to ride any winner for the Queen but to do it in the Gold Cup is very special.
"We had a good draw and the pace wasn't mad at the beginning, she relaxed so well over the final furlongs."
It was a brave race by former Gold Cup winner Colour Vision but his defence was undone as Estimate hunted down the leader in the last furlong. Simenon gave chase but was always half a stride off the Queen's colours.
Saddlers Rock was third in this race in 2012 but trailed late on and fell away.
Estimate trainer Stoute said: "I really felt it was a tough task, I wasn't confident at all with her taking on the boys. It's a great honour to win for Her Majesty the Queen.
"Her preparation had gone well and she was bred to have a big chance of getting the trip but she had to step up to beat these boys.
"It's a special thrill for the Queen. She said it gave her great pleasure and she thanked everyone involved."
After the race a stewards' inquiry was launched into Estimate's manoeuvres over the closing stages. The placings were to remain unaffected, but her jockey Ryan Moore has been banned for two days for an accidental drift into another horse. Mickael Barzalona, on third-placed Top Trip, was banned for three days for a deliberate illegal move.
In the Ribblesdale Stakes pre-race favourites Alive Alive Oh and The Lark were non-runners, leaving Riposte to take an emotional victory for Lady Cecil, the widow of Royal Ascot's leading all-time trainer Sir Henry Cecil, who died nine days ago.
Riposte trainer Lady Cecil said: "We hardly dared dream that we would have a winner, but Henry would be relishing this because he loved Ascot.
"As you can imagine it's been a tough, tough week for everyone at Warren Place. But I'm sure Henry is looking down on us today."
Earlier, leading juveniles contested the opening race - the Norfolk Stakes - as American horse No Nay Never ridden by Joel Rosario saw off 9-4 favourite Coach House in second and Wind Fire in third.
In the final race of the day the King George V, the Queen could have doubled her victories with 7-2 favourite Bold Sniper.
The three-year-old bay colt, who won last time out at Leicester, left it late and was pushed out wide with two furlongs to go. Jockey Ryan Moore continued to push and gave everything to the line but Elidor did just enough to take the win from Space Ship and Bold Sniper.
Meanwhile, in the Tercentenary Stakes favourite Remote left it late to power to the line beyond 7-1 Shikarpour and 14-1 Van Der Neer. In the Britannia Stakes, despite wins at York and Newbury, clear favourite Wentworth found his path crowded as 20-1 Roca Tumu outpaced Tarikhi and Queensberry Rules to victory.