Royal Ascot: An insider's look at the famous race meeting
By Frank Keogh
BBC Sport at Royal Ascot
Last updated on .From the section Horse Racing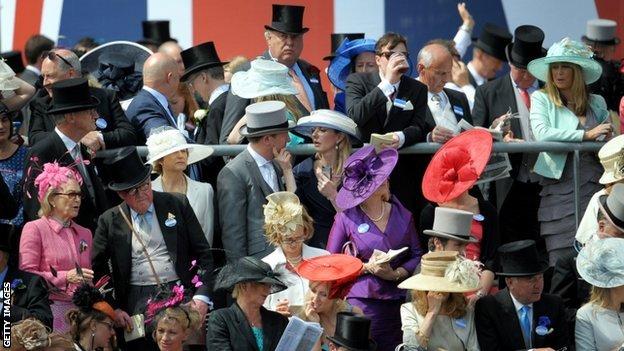 At Royal Ascot, in the plusher lavatories in the higher echelons of the imposing grandstand, there are plastic trees, free mouthwash, hand and nail cream, aftershave, moisturiser, deodorant, a shoe brush.
There are even urinals. And racecards.
For five days in June, this is a world like no other, where the planet's best thoroughbreds compete amid a carnival of colour, fashion, gambling and partying.
Thirty races over six days with £5m in prize money, and a total of 280,000 spectators who get through 170,000 pints of beer and 50,000 bottles of champagne.
"The racing is the best racing in the world, but it has this sense of occasion, of being different to all other meetings, that sets it apart," says award-winning Racing Post journalist Alastair Down.
It is one surreal stop on the British summer social sporting calendar, where all human life from the cheeky council estate chancers to the top-hatted aristocracy can be observed, in their greatest and basest forms.
Racegoer Debbie Cragg is here, with a mixture of mothers and daughters in a seven-strong party, easing into the day with a chilled glass of rosé and a casual look at the form.
"Why do we come? It's a mixture of everything - from choosing your outfit, organising it all, the fantastic atmosphere, the horses," says the 50-year-old from Cobham in Surrey.
On a normal day, she is a fundraiser for a children's hospice called the Shooting Star Chase, helping kids for whom this glamour and glitz is far removed from their serious illnesses.
"This is a fun day out, a chance to relax, for us all to meet up, and we don't care if we win or we lose," she says.
There are plenty who do care down in the betting ring, which has changed markedly down the decades, according to broadcaster and former bookmaker John McCririck.
"It's less of a punting jungle down there with people able to bet online and on their phones nowadays," he says.
"Things have changed here but even with an economic recession, Royal Ascot gives the very rich a chance to flaunt their wealth."
While there are ways of enjoying a day at these races without seeing your mortgage adviser (Silver Ring tickets can be bought for £20), you need a bit of ready cash to fully enjoy the experience.
A bottle of water costs £2.50, a spot in the panoramic restaurant will set you back the best part of £1,500, and prices for bottles in the Moet & Chandon champagne bar range from £75 to £322 a pop.
This year on the other side of the track from the grandstand, but within a photo finish of the winning line, are a collection of new high-end gazebos, with light brown wooden chairs and white railings around your allocated space of prime Berkshire grass.
You can reserve one of these facilities for 12 people at the reasonable cost of £500, albeit various extras come at a price, like a private butler service for £200.
The Group One of venues to socialise, for those allowed entry, is car park number one for owners and trainers, about a furlong on from the winning post, where picnics have silver service cutlery.
However, it is a modern myth that the meeting is purely a jamboree for privileged public school graduates, says Down.
"The whole place has become much more accessible and open," he says.
"There is still that corral of pure snobbery but you have to look hard to find it nowadays whereas it used to be awash with it."
Unlikely sounding champions of the common man were gents with names like Douglas Erskine Crum and Stoker Hartington, who pushed for a more relaxed air.
Divorcees are no longer banned in the Royal Enclosure (they were until 1955), although the poshest part of the racecourse still enforces a stiff dress code which has no room for cravats or fascinators.
"Ascot now welcomes the racegoer as a customer more than a complete inconvenience or something stepped in on the pavement," adds Down.
"They have looked after the lesser enclosures more. This is not just about the Royal Enclosure - everyone dresses up in every enclosure.
"It's much more about ordinary people having a day out. The whole thing is infinitely more modern and less of an anachronism than it used to be.
"When I was a young man it used to drive me insane because I thought everyone should be dressed the same and be equal. As I've got older and more mellow, and more spineless, I just go with the flow now."
Walking to the track with a pleasant worker from one of the ground-floor grandstand bars, she tells of occasional, surly, boozy, losing punters, but is loving the experience and says staff are encouraged by their bosses to smile and enjoy the occasion.
Day three of the 2013 meeting - Ladies' Day where the Gold Cup was won by the Queen's horse Estimate - was a day wreathed in smiles.
Even the grieving Lady Cecil, the widow of Royal Ascot's leading all-time trainer Sir Henry, who died aged 70 the week before, could afford an emotional celebration as she saddled Riposte to win the Ribblesdale Stakes.
Around the Ascot bandstand at 6pm, the daily feelgood singsong had an extra oomph that evening in scenes akin to those in London's Olympic Park last summer as happy Union-flag waving spectators caroused in the sunshine.
Thousands of largely happy people were smiling, swaying and mouthing along as the band belted out a range of popular ditties from Roll Out The Barrel and Sweet Chariot to You'll Never Walk Alone and I'm Forever Blowing Bubbles.
The fallout after racing is chaotic. Bleary-eyed men wearing flowery ladies' hats can be spied roving around unsteady females, barefoot and with bare-faced cheek in some cases after a prolonged day of forever sipping bubbles.
Pop. That's sound of another bottle being uncorked in owners and trainers' car park number two, over the road from the racecourse, where there's picnics and Pimms, holidaying jump jockeys and hollering disc jockeys.
Those with Australian, American, South African and French connections mix with their British and Irish counterparts.
Top hats and next-day selections are tipped, information passed on, gossip exchanged.
Many boast the name badge of honour that membership of the Royal Enclosure brings.
To stand a chance of joining this exclusive club - racing's version of the MCC in cricket - you have to be sponsored by someone who has been a member for at least four years.
Ascot head of communications Nick Smith says there are about 80,000 members but many do not attend every day, with 13,000 the daily capacity, less than a quarter of the average daily attendance.
Big horse racing festivals have their own colour. Cheltenham boasts great craic with its visiting Irish contingent; newspapers nicknamed Aintree the Tanned National in honour of some solarium-kissed Scousers, while Epsom enjoys all the fun of the fair as travellers set up camp on the Surrey downs.
Royal Ascot has elements of them all, but its own way of doing things.
In the ladies' loos on the grandstand second floor, I'm told a framed photo of the late Queen Mother welcomes visitors. While that great racing ambassador never graced the throne, I suspect she would have given the modern Royal Ascot a regal seal of approval.