Royal Ascot 2013: The curtain closes on an unforgettable event

By Cornelius Lysaght
BBC horse racing correspondent
Last updated on .From the section Horse Racing53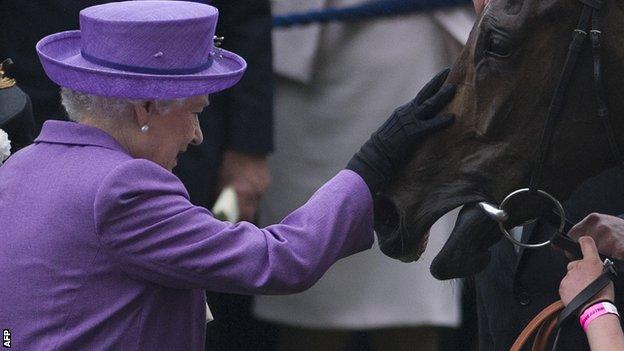 Those of us who feared Royal Ascot 2013 would struggle to live up to the levels of last year were put firmly back in our boxes.
Twelve months on from the breathtaking successes of Frankel and Black Caviar, the five days this year served up a stirring, occasionally heartbreaking, string of quality dramas.
It was non-stop excitement from Declaration of War (Queen Anne Stakes) to Chiberta King (Queen Alexandra) via, of course, the Queen's Gold Cup winner Estimate.
A guinea a minute: The St James's Palace and Coronation Stakes
All the right players lined up for the Royal Ascot equivalent of the 2000 Guineas and the 1000 Guineas Classics, and neither disappointed.
Dawn Approach's narrow defeat of Toronado in the St James's Palace will probably be rated as the training performance of the whole year by Jim Bolger and his team.
It was a surprise that the 2000 Guineas winner, undefeated in seven prior to flopping when favourite for the Derby, was in the line-up at all, but to then win in a thrilling finish was little short of extraordinary.
That was a second conquering of Toronado by Dawn Approach in two meetings, and if they have another go at each other in Glorious Goodwood's Sussex Stakes on 31 July, that will be another duel on the downs to savour.
Having endured a near-miss on Toronado - not his only one in the first few days at Ascot - champion jockey Richard Hughes finally made the winners' podium, in brilliant style, on Sky Lantern in the Coronation Stakes.
On the golf course for 14 holes before racing to "clear his head", Hughes rode the 1000 Guineas winner with confidence in her abilities before delivering the filly for an emphatic win.
The immediate talk from assistant trainer Richard Hannon junior was of taking on longer races than this challenge over a mile, and of going for the Prix de l'Arc de Triomphe - if not this season, then next, when she's expected to stay in training.
'Doyle Ascot': The zero to hero hat-trick in little over an hour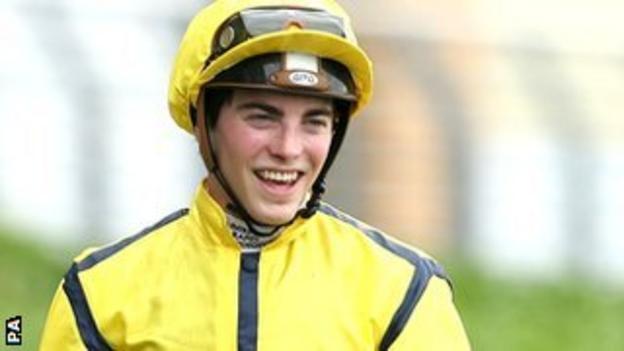 James Doyle has been spoken of as a rising star jockey for quite some time, but his first three Royal Ascot wins, all in quick succession on day two, indicate that he's arrived.
This was the perfect showcase for the 25-year-old's talents.
The trio of horses - Al Kazeem, Belgian Bill and Rizeena - are all quiet horses, each needing their own individual rides.
Al Kazeem is all quality and needed precision judgment from the saddle in the Group One Prince of Wales's Stakes; Belgian Bill got the better of 27 rivals in the split-second rough and tumble of the Royal Hunt Cup Handicap; while two-year-old filly Rizeena needed guidance as well as encouragement in the Queen Mary Stakes.
Modest and personable, Doyle is enjoying a lucrative association with Al Kazeem's trainer Roger Charlton and could easily take all three to even dizzier heights in the months ahead.
The importance of Gold Cup heroine Estimate
The respected form book gurus at Timeform believe this year's Gold Cup was not a great one in terms of ratings, and they are possibly correct.
But even Timeform's famously hard-nosed, no-nonsense boffins concede it was terrific in every other respect.
First of all, it was a famous victory for the Queen, who became the first reigning monarch to win Ascot's centrepiece in the 206-year history of the race.
And as a first Royal win in a British Group One prize since the Silver Jubilee in 1977, it was also a result of huge significance for the Queen's racing and thoroughbred breeding operation.
But for British racing itself, the win was inestimable after a challenging two months with doping and corruption scandals.
For once, the radio and TV reports - plus the online and newspaper pictures - all shouted about racing and it was good news, providing a priceless amount of positive advertising.
Estimate herself did not receive the attention she deserved as she gobbled up the final half-mile of the marathon race to become the first filly to win since 1991.
John Warren, the Queen's racing adviser and the guy sitting on her left in all the pictures at the end of the race, has not given away much about future targets, but they will be top stamina races.
Sir Henry Cecil remembered
Jane Cecil won two races at Royal Ascot, staged only days after the death from cancer of her husband Henry, and, in the process, gained thousands more admirers for her own courage.
Riposte's win in the Ribblesdale Stakes, the race before the Gold Cup, was followed by success for the ill-fated four-year-old colt Thomas Chippendale in the Hardwicke Stakes for Team Cecil's double.
After Riposte won, Lady Cecil declared, voice shaking with emotion: "This is for Henry. He so loved Ascot."
It was the first time I could recall the old 'there isn't a dry eye in the house' legend actually being correct.
She was, it is to be hoped, spurred on by the outpouring of love and vocal support from across the famous racecourse where Sir Henry sent out a record 75 winners over more than 40 years.
It was a tragedy that Thomas Chippendale collapsed and died after passing the Hardwicke Stakes winning line in front.
Any other business
As we look to the future, the quality of the six two-year-old races looked strong, with the ever-growing interests of the Al Thani family from Qatar taking two of them.
Much of the international interest during the week had centred on US-trained Animal Kingdom, winner of the 2011 Kentucky Derby and this year's Dubai World Cup.
However, he finished down the field in the opening Queen Anne Stakes, but American racing still celebrated a win, with No Nay Never in the Norfolk Stakes.
The result was impressive, as was trainer Wesley Ward, the winner of two other juvenile races at Royal Ascot 2009, who called on more of his US colleagues to make the trans-Atlantic trip.
Confirming No Nay Never, successful on his only previous run in Kentucky in April, on course for France's Prix Morny, Ward said his ambition was to get a full house of Ascot's two-year-old races.
Closer to home, Aidan O'Brien flew in from Tipperary to be top trainer with four wins - of a record-equalling eight from Ireland - while Johnny Murtagh, present as both a trainer and a jockey, was top rider, again with four.
Final thought…
The dates for the next one: 17 to 21 June, 2014. But can it be as good as 2013 and 2012?