Godolphin doping: BHA inquiry ends with no further charges
Last updated on .From the section Horse Racing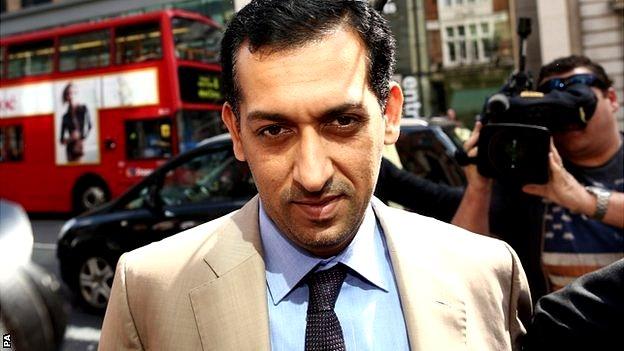 Godolphin's Moulton Paddocks stable faces no further doping charges after an inquiry concluded banned trainer Mahmood Al Zarooni operated alone.
The British Horseracing Authority (BHA) found no evidence that anyone other than Al Zarooni was involved in the distribution of anabolic steroids.
However, the BHA said "structural and procedural deficiencies" at the stable in Newmarket must be addressed.
Al Zarooni after 22 horses tested positive.
Charlie Appleby, Al Zarooni's assistant, has assumed control of Moulton Paddocks with immediate effect and has already begun implementing some procedural changes alongside fellow Godolphin trainer Saeed bin Suroor.
The BHA said it was happy Appleby had no knowledge of Al Zarooni's wrongdoings.
Paul Bittar, chief executive of the BHA, said: "The investigation process has been a complex and challenging one. However, I am satisfied that the conclusions reached are an accurate reflection of events.
"Fortunately cases such as this - both in terms of scale and profile - are incredibly rare, however there are areas where we can learn from the issues raised."
The scandal - described as the biggest in racing history - became public on 22 April when Godolphin issued a statement in which it said 11 horses, including unbeaten 1000 Guineas contender Certify, had tested positive and Al Zarooni admitted a "catastrophic error".
At a subsequent disciplinary hearing, the trainer was banned for eight years after also admitting to doping another four horses.
Seven more racehorses trained by Al Zarooni then failed tests for anabolic steroids on 20 May, including 2012 St Leger winner Encke.