Jockeys 'distraught' after rider Simone Montgomerie dies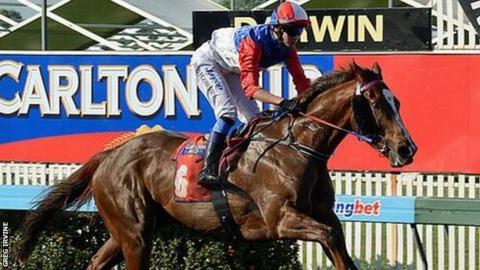 Fellow riders are distraught over Simone Montgomerie's death, says the Australian Jockeys' Association.
The 26-year-old, who was mother to a young daughter, died after being thrown from her mount into the path of other horses at the Darwin Cup meeting.
"Riders across Australia are clearly shocked and distraught by what has happened," said the AJA's Des O'Keeffe.
He said she was the 502nd jockey to die after a fall or accident since Australian racing began 200 years ago.
"Simone was a really warm, vivacious young woman. It's a tragedy you couldn't possibly try to explain," he told BBC Sport.
After her fall from Riahgrand in the Wolf Blass Lightning Plate race, the remainder of the Darwin Cup meeting, which had a crowd of about 20,000, was abandoned with three contests - including the Cup itself - remaining.
"It's unclear exactly what happened other than the horse seemed to lost its footing. She fell and then other horses ran over her," said O'Keefe, general manager of the 850-member association which has about 200 female members.
"I've spoken to a lot of riders who were there and they are absolutely shattered that this has happened.
"They are well aware, even if they might not discuss it, that this is an inherently dangerous occupation. It's the reality that this is one possible outcome of the job."
He said it was likely a tribute would be arranged for racing on Saturday in memory of the rider.
"The AJA and the racing industry as a whole has already, and will continue to, provide as much support as possible to Simone's partner and family, and to other riders affected by this tragedy," he added.
"We are acutely aware of the impact this will have on a number of people within our industry."
The Northern Territory rider's father, Peter Montgomerie, trained 2005 Melbourne Cup runner-up On A Jeune.
"Simone was a champion jockey at the top of her game and a pioneer of women in racing who will be sorely missed," said Adam Giles, chief minister of Northern Territory.
She died just two days after the AJA's national jockeys' day, which marks the contribution of riders to the thoroughbred industry, and remembers those who have lost their lives in riding accidents.
On Saturday, jockeys and tracks throughout Australia had blessing services followed by a minute's silence.
Another female rider, the Australia-based Kiwi Ashlee Mundy, died after a fall in New Zealand in December 2012.
O'Keefe said safety for jockeys had improved down the decades, but accidents were a risk with thoroughbreds, which can reach speeds of about 40 miles per hour.
Family friend Greg Irvine, who has known Simone since she was a child, was among those to pay tribute.
"You wouldn't find a person with a brighter smile and more beautiful personality," said Irvine, the media manager for Magic Millions thoroughbred auctioneers.
"I've known Simone and her family for over 20 years after growing up in a neighbouring town and my heart goes out to her loved ones.
"During her riding career in South Australia and the Northern Territory, Simone made many friends and only last week become the first female rider to win the Darwin Jockey Premiership.
"My deepest sympathies go to her parents Peter and Lee-Anne and her gorgeous daughter Kodah."