Nine trainers in clear over Sungate steroids inquiry
Last updated on .From the section Horse Racing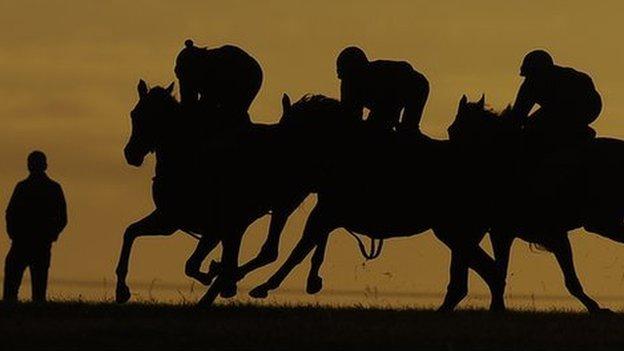 Nine trainers will not face any disciplinary action after a product containing a banned anabolic steroid was given to 43 horses.
The announcement follows a British Horseracing Authority (BHA) investigation into the use of Sungate, a treatment used on a horse's joints.
Nine trainers were found to have acted on the advice of vets, says the BHA.
But charges have been brought against Gerard Butler, who has admitted injecting horses with the product.
After a visit by inspectors in February, nine horses trained by Butler at his Newmarket stable tested positive for the prohibited steroid stanozolol, contained in the Sungate treatment.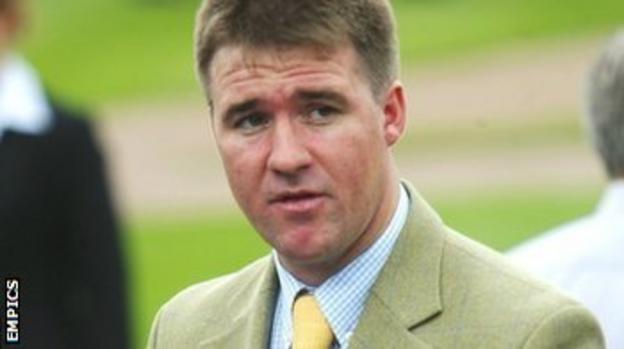 The 47-year-old has already been charged with seven breaches of BHA rules, including three relating to "administering intra-articular injections himself" although a date for his hearing has yet to be announced.
A wider investigation, separate to another inquiry which saw Godolphin trainer Mahmood Al Zarooni given an eight-year ban for doping horses, began after Butler suggested more than 100 horses in Newmarket were treated with Sungate.
Investigators met with 38 trainers who were known to use the same veterinary practice, which legally imported Sungate under licence into the UK and recommended its use, despite anabolic steroids being banned in British racing.
The BHA says 43 horses from nine trainers were identified as having been treated with Sungate by veterinary surgeons since early 2010, but there were no grounds for charges to be brought.
"Under the current rules of racing, in the absence of any positive samples, charges could only be brought in cases such as this if there is evidence that the trainer concerned has acted in a manner prejudicial to the integrity, proper conduct, or good reputation of the sport," said Adam Brickell, the BHA's director of integrity, legal and risk.
"In these cases there was no such evidence. This is because the nine trainers in question only allowed their horses to be administered with the product on the advice of - and by - veterinary surgeons to treat orthopaedic conditions."
As no charges have been brought, it is BHA policy not to reveal the names of any of the trainers or horses involved in the investigation.
The authority has stressed that although Sungate contains stanozolol, it is used to treat joints which makes it different to an intramuscular anabolic steroid product. which would have a much higher concentration of anabolic agent.
Brickell, acknowledging that vets are "not currently accountable to the BHA" said it will try to reduce the chances of something similar happening in the future.
The organisation's chief veterinary officer Jenny Hall said: "It remains a matter of serious concern that a veterinary practice recommended and administered a product containing anabolic steroids."