Shergar Cup, Ascot: Napravnik seeks win with female jockeys
Last updated on .From the section Horse Racing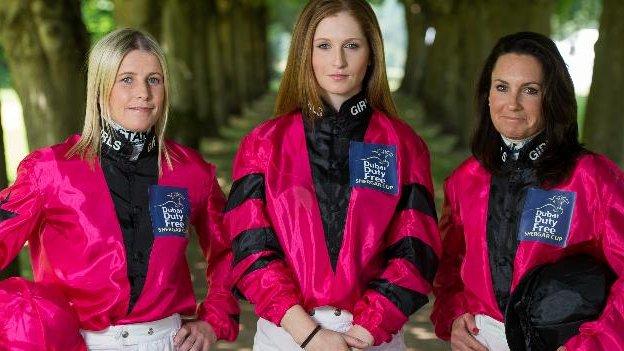 A team of women jockeys are targeting a landmark success against male riders in the Shergar Cup at Ascot on Saturday.
American Rosie Napravnik, Kiwi Lisa Allpress and Irish rider Cathy Gannon make up a "girls" side in a four-team event.
They will compete in races against leading men from Great Britain and Ireland, Rest of the World, and Europe.
Napravnik said: "It'd be great if we could win. There's no other sport where women have this kind of opportunity."
Saturday is the second time an all-female team has tried to win the Shergar Cup, which began in 1999. It features six 10-horse races involving four teams of three riders from around the globe.
Gannon was called up after Britain's leading lady rider, Hayley Turner, who has won races at the top Group One level, broke her ankle in a fall.
"She was in hospital at the time and called me to say I should ask my agent to try to get me on the Shergar Cup team," Gannon told BBC Sport.
"It was very thoughtful to think of me like that. She said I deserved it and was happy for me."
The female team will take on sides led by veteran Classic-winning jockeys in Frenchman Gerald Mosse, American Gary Stevens and Irish rider Kieren Fallon, who has been six times champion in the UK.
But Napravnik, captain of the team which is officially known as "Girls", has set new benchmarks herself - riding more than 1,600 winners in her career, including the 2012 Kentucky Oaks with Believe You Can and Breeders' Cup Juvenile on Shanghai Bobby.
"I've been lucky this year to ride in all three Triple Crown races [Belmont Stakes, Kentucky Derby, Preakness Stakes] and I'm looking forward to riding against some of the top riders in the world on Saturday," she said.
Napravnik, 25, flew into England on Thursday morning and returns to the United States to ride at Saratoga on Sunday.
Gannon, who was Ireland's first female champion apprentice in 2004, is enjoying a better 2013 after three separate falls last year caused breaks to her jaw, collarbone and thighbone.
"It's a very risky business and a dangerous sport, but we love it," said the 31-year-old Dubliner, speaking just days after jockey Simone Montgomerie died after a fall at the Darwin Cup meeting in Australia.
"What happened in Australia puts things in perspective."
Allpress acknowledges that women "are making their mark" in New Zealand racing but says there remains some prejudice against female riders.
"It has been tough and not just on the track - for women in racing in general - whether they are presenters, journalists, administrators or whatever. I go and do my job and the proof is the results," she said.
Having left her family in Ireland aged 14, Gannon has proved herself a reliable rider, and believes there is no reason why women should be judged inferior to men in the saddle. Her team are rated 9-4 joint favourites by bookmakers to lift the Shergar Cup.
"It's not as if we talk about nail varnish going down to the start," she said. "The horses don't know if you are a girl or a man.
"It would be brilliant if we could win on Saturday, although I'm not sure if the lads would be happy."
Dubai Duty Free Shergar Cup schedule
(Time, race, age group for horses, distance)
1255 Les Ambassadeurs Casino Shergar Cup Mile (4+) Old mile
1330 Redcentric Shergar Cup Stayers (4+) Two miles
1405 Barclays Shergar Cup Dash (3+) Five furlongs
1440 Keltbray Shergar Cup Classic (3) One mile & four furlongs
1515 PageGroup Shergar Cup Challenge (4+) One mile & four furlongs
1550 Dubai Duty Free Shergar Cup Sprint (3) Six furlongs