Martin Dwyer: Eight-month ban for jockey in India
Last updated on .From the section Horse Racing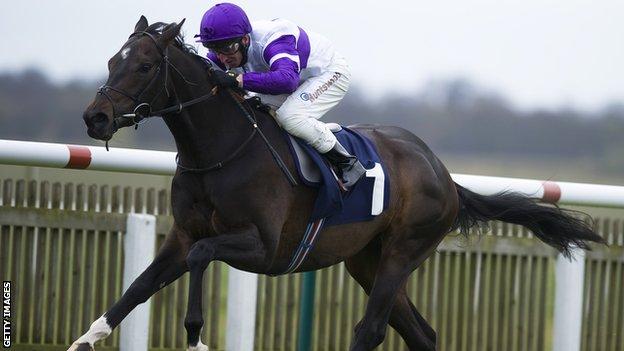 British jockey Martin Dwyer has been banned for eight months by stewards in India after losing the latest stage of a fight against suspension.
The ban was extended after an appeal board sent the case back to Royal Western India Turf Club stewards.
He intends to fight the ban, set to run from 31 August to 30 April, 2014.
The Liverpool-born jockey, who won the 2006 Derby at Epsom on Sir Percy, said he was "confused and disappointed" by the latest news.
"I can't really comment much further, other than saying I will definitely be appealing," said Dwyer.
"All I can do now is wait for the official notification and see what the reasons are."
Dwyer finished a narrow third on favourite Ice Age at Mahalaxmi racecourse in Mumbai on 17 February, prompting an angry response from racegoers.
A head-on video of the race showed Ice Age appearing to drift towards the rail in the closing stages, bumping the eventual runner-up and causing Dwyer to snatch up his mount.
Dwyer is likely to be free to ride pending an appeal, although confirmed bans are normally reciprocated worldwide.
"We have only just heard the reports emerging from India. We will await further information from the Royal Western India Turf Club before making any comment," said British Horseracing Authority spokesman Robin Mounsey.