Martin Dwyer: British jockey aims to clear name after 'cheat' claim

By Cornelius Lysaght
BBC horse racing correspondent
Last updated on .From the section Horse Racing13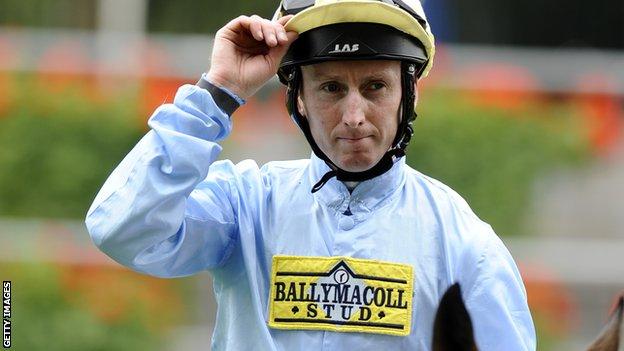 For 70 fast and furious seconds at Haydock this weekend, speed will be the name of the game as the runners chase after top honours in the Betfred Sprint Cup.
At about the same time, more than 4,500 miles away, the latest twist in what's promising to be the racing year's most stamina-sapping and lengthy marathon will be unfolding.
Pune racecourse, India, is the venue as British jockey Martin Dwyer continues a protracted battle to clear his name after being branded a cheat, and handed a long ban, by local officials.
It all surrounds the defeat of Ice Age, a mount taken by Dwyer, 38, during a winter spell riding in India, which finished a close third at Mahalaxmi, Mumbai in February.
Officials say the jockey, a winner of the Epsom Oaks and Derby, deliberately prevented the filly, which was favourite, from gaining the best possible position by allowing her to run off a straight line during the race.
Dwyer insists she wandered around "like she was drunk", after suffering the debilitating effects of an internal burst blood vessel, filling her lungs with blood, and he had the evidence on his silks to prove it.
Ice Age was declared a non-runner, and the jockey had to flee angry punters who, he believes, would have inflicted serious injury, or worse, had they caught up with him.
A 56-day worldwide suspension by the Royal Western India Turf Club followed.
On appeal, the penalty was referred back for review to the stewards, who then, without any published explanation, increased it to eight months.
It is believed the only new material presented was from the Liverpool-born jockey's representative claiming the horse had been confined to her stable prior to the race because of another broken blood vessel.
Almost to a person, racing professionals in Britain have condemned the decision, some calling on the authorities here not to recognise it should it be confirmed on Saturday.
"I see that kind of race almost every day in Britain," said Martin Dixon of the respected Timeform form gurus.
"Horses don't always do everything straightforwardly for one reason or another, whether mental of physical and that's what I'd say happened here.
"I don't think the jockey's done anything wrong."
Continuing to protest his innocence, Dwyer, who under Indian rules cannot be represented at the appeal by a lawyer, so will speak up for himself, told BBC Radio 5 Live: "I'm not guilty of what they've found me guilty of.
"When they increased it to eight months, it's just added more worry, more pressure.
"The support has been overwhelming. Anyone who knows anything about horse racing knows I was doing everything in my power to try and win the race.
"The horse was running around underneath me, acting peculiar. She'd have won the race if she'd run in a straight line, and she didn't.
"Three strides after the winning post, I've got down off her and she's bled. For me that clearly tells you she had a problem during the race, and that explains everything.
"I'm just confused how anybody can find me guilty of not letting her run on her merits when she was clearly sick."
Even discounting the warmer weather, riding in India is a highly lucrative alternative to taking part in the all-weather circuit during the winter at home.
Big races with large purses take place across the country weekly, and prior to 2013, Dwyer had enjoyed conspicuous success, notably on prolific Classic winner In The Spotlight.
The rewards come with a risk, however, and champion jockey Richard Hughes was hit with a 50-day ban in 2012 for not riding to instructions, a rule that doesn't exist elsewhere.
That incident, plus the controversy surrounding Dwyer, are thought to be making some of their colleagues think twice about travelling this winter.
And the potential knock-on effect could be to deter outside investment into Indian racing, thereby hindering long-held ambitions on the global racing stage.
Those aims include improving the quality of the country's horses and races and the expansion of its thoroughbred breeding industry.
It's hoped such changes might attract the biggest names on a regular basis. Controversial stewards' decisions and the accompanying headlines won't aid the cause.
Meanwhile, in a new twist, the Mumbai Mirror has reported: "So overwhelming is the prediction [of] Dwyer gaining a reprieve that the only guesswork the racing fraternity is indulging in is whether the six-member (provided all attend) appeal board's verdict will be 4-2 or 5-1 in his favour."
After hearing of the newspaper's view, Dwyer said he "remains hopeful", mindful no doubt that perceived wisdom about the last appeal was that it would succeed.
If the verdict in Pune goes against him, he confirmed an application to the British Horseracing Authority to disregard the suspension will follow.