Martin Dwyer: Jockey's India ban reduced to eight weeks
Last updated on .From the section Horse Racing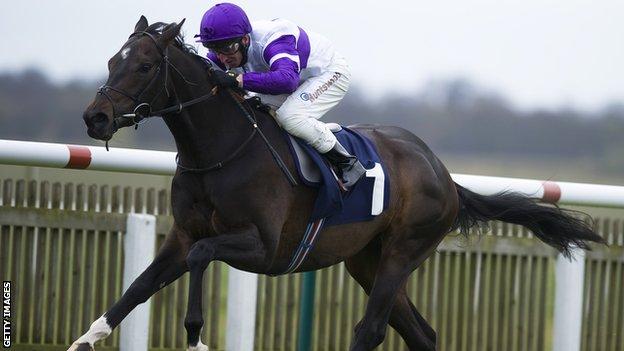 British jockey Martin Dwyer's eight-month ban has been restored to eight weeks after an appeal to racing stewards in India.
The ban was extended after an appeal board sent the case back to Royal Western India Turf Club stewards.
Dwyer will ask the British Horseracing Authority not to reciprocate the ban, which is due to start on Monday.
Paul Struthers, chief executive of the Professional Jockeys' Association, called the suspension "a disgraceful decision" and "a blatant miscarriage of justice".
He added: "The RWITC have gone totally against their own rules by failing to uphold Martin's appeal in full.
"An application will be made to the BHA on Monday requesting the ban is not reciprocated and for a stay of penalty, pending the hearing."
The Liverpool-born jockey, who won the 2006 Derby at Epsom on Sir Percy, finished a narrow third on favourite Ice Age at Mahalaxmi racecourse in Mumbai on 17 February, prompting an angry response from racegoers.
A head-on video of the race showed Ice Age appearing to drift towards the rail in the closing stages, bumping the eventual runner-up and causing Dwyer to snatch up his mount.
Dwyer argued that it later emerged the horse had suffered a broken blood vessel during a race a fortnight earlier and should not have been allowed to run.
His agent Simon Dodds said the jockey, who attended the hearing at Pune Racecourse in India, was "disappointed" the ban was not completely overturned.
"Martin hopes that when the BHA looks at the evidence they will see it slightly differently to the Indian stewards," he said.