Prix de l'Arc de Triomphe: Treve can save Frankie Dettori's year

By Cornelius Lysaght
BBC horse racing correspondent
Last updated on .From the section Horse Racing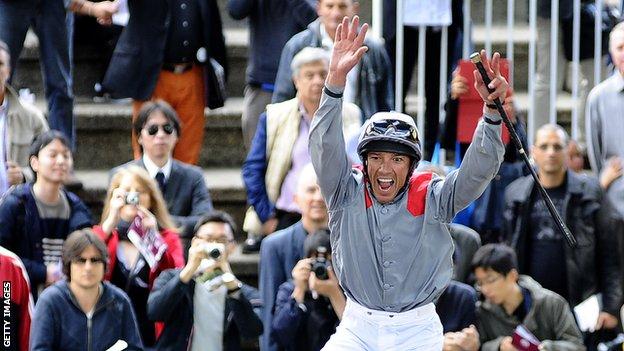 Frankie Dettori says "there's not a minute that goes by" when his mount Treve is not filling his thoughts ahead of the Prix de l'Arc de Triomphe.
No surprise given the unbeaten French filly is second favourite to give him a rare fourth triumph in European racing's great autumnal championship.
But there's more to it than that for the Italian - who came off on Wednesday at Nottingham.
Victory would help racing's biggest star to rebuild after a troubled year.
Soon after partnering Camelot in the 2012 Arc for the Irish-based Coolmore racing operation, Dettori left his long-term number one riding job with Sheikh Mohammed's Godolphin stable, Coolmore's arch-rival.
After weeks of barely-concealed tension, the decision to 'fraternise with the other side' appeared to be the final straw in their deteriorating relationship.
Subsequent plans to become freelance had to be put on hold when the 42-year-old found himself hit with a six-month ban when testing positive for cocaine while riding in France.
And his return to the saddle at the end of May proved harder than maybe anticipated, with opportunities limited, and so far fewer than 20 winners in Britain.
However, Treve and her owner, Sheikh Joaan al Thani, a member of the increasingly influential Qatar ruling family, who's signed up Dettori to ride his ever-growing string, could change all that.
Dettori's fall at Nottingham resulted in a sprained ankle but he is expected to be passed fit for Longchamp.
"It's the biggest race in Europe," the three-time champion jockey told me, in his distinctive Italian/Cockney tones, "one that makes the heart beat faster, and when you have a horse like that, you have to be excited.
"Only the select few, Freddie Head, Pat Eddery and Olivier Peslier won four, and I've got three so if I won another, it would be the icing on the cake.
"Even if I was having a good year, an Arc win is always special. It's a championship race being watched by millions throughout the world."
Pressed about it being extra special at the end of this, of all years, he agreed "absolutely".
The bad news for Dettori, riding in his 26th consecutive Arc and looking for his 200th Group One victory, is the quality of this year's race.
It's being billed as the greatest running of the Longchamp feature since Dancing Brave's unforgettable defeat of top drawer opponents under Pat Eddery in 1986.
A truly international line-up is headed by Japan's Prix Foy winner Orfevre, last year's runner-up, and trying to give his compatriots their first taste of Arc success.
Also in are Germany's King George winner Novellist, the mount of in-form jockey Johnny Murtagh, and up to three Derby winners, Intello (France), Kizuna (Japan) and Ruler Of The World (Epsom).
It's a further demonstration of the strength in depth that three-time Group One winner Al Kazeem, Britain's big hope, is batting way down the betting order.
However, the good news for Dettori is that Treve, trained by Criquette Head-Maarek and bought for a reputed eight million euros, is right in the mix, having also put in a fine performance to win the Group One Prix Vermeille.
Additionally, fillies have won three of the last five runnings of the Arc, two of them, Danedream and Zarkava, like Treve, as three-year-olds.
"Treve's only run four times," said the jockey of the horse that provided his first Group One win of 2013 in the Vermeille, "so you have got to believe there is room for improvement.
"That was the first time she ran over the Arc distance [one and half miles], and it was on the same track, and she seemed to handle it really well. She's got a great turn of foot.
"She ticks all the boxes, but it is probably the best Arc since Dancing Brave so I'm taking nothing for granted but I wouldn't like to swap her for anything else."
Dettori has already said he sees the new job as a chance for a fresh start after the 'moment of madness' that led to the positive drugs test; how he'd love an Arc win to seal the deal.