Sheikh Mohammed: Swiss Federation questions inquiry
By Joe Wilson & Frank Keogh
BBC Sport
Last updated on .From the section Horse Racing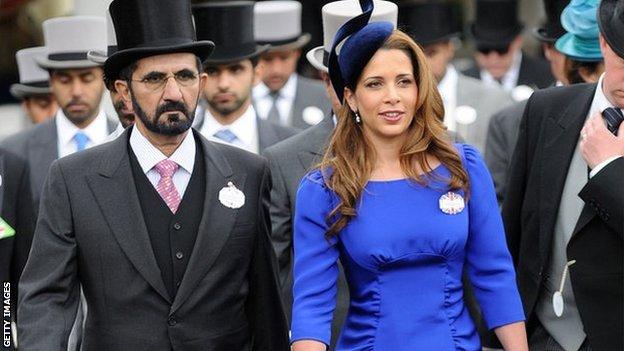 A leading equestrian federation has questioned the independence of a probe into Sheikh Mohammed's equine business.
Former London police chief Lord Stevens was called in by the sheikh's wife to oversee an internal inquiry after illegal veterinary drugs were seized from a stables and private jet.
Sheikh Mohammed is the world's biggest owner of racehorses, but the latest questions focus on endurance racing.
The Swiss federation's Claude Nordmann would prefer an external investigation.
The Swiss have consistently called for greater transparency and an end to what it sees as conflicts of interest within the world governing body of international equine sport.
They have been one of the strongest voices for more independence, especially in the scrutiny of endurance riding, which they believe has lagged behind in the application of doping regulations.
Stevens will oversee an "internal investigation", instigated by Sheikh Mohammed and his wife Princess Haya of Jordan, into his worldwide equine interests.
The sheikh's Godolphin operation has hundreds of racehorses at stables in Dubai and England. He also has horses stabled in the United States, France and Ireland.
One of the world's richest men, he ordered a first investigation earlier this year after Mahmood Al Zarooni, one of two Godolphin trainers in Newmarket, was given an eight-year ban for doping 15 horses. Another seven were later found to have been given banned performance-enhancing drugs.
In addition to owning top thoroughbreds, and the Darley breeding empire, Sheikh Mohammed is an influential supporter of endurance racing.
The sport sees riders compete over distances of up to 100 miles (160km) under the auspices of equestrian governing body, the FEI, of which Princess Haya is president.
In August, officials from the British government's Department of Food and Rural Affairs (Defra) discovered more than 100 illegal medical products at the Newmarket stables of the sheikh's endurance trainer Jaume Punti Dachs.
Three months earlier a shipment of drugs, unauthorised for use in the UK, was seized by border officials at Stansted Airport from a private jet owned by the Dubai government.
Princess Haya appointed Lord Stevens to carry out an internal review of the sheikh's equine operations after a meeting on Tuesday.
But Nordmann, international relations co-ordinator for the Swiss federation, has raised doubts about the independence of this inquiry.
"I'm not sure the inquiries Princess Haya has started will come to a good conclusion," he said.
"Look, Lord Stevens is also a consultant of the FEI. How can Lord Stevens also act for a private issue? I have some doubts."
However, a spokesman for Princess Haya told the BBC she asked Stevens to assist because of his experience, expertise and integrity.
"She felt it was very important to bring an independent perspective to this effort," said the spokesman.
He said the princess had been unaware of the seizures until media reports surfaced last month, and she issued a directive to staff the following day.
Stevens, who was the Metropolitan Police commissioner from 2000 to 2005, has previously conducted inquiries into the death of Princess Diana, and Premier League football transfers.
His company Quest helped Princess Haya with a 'clean sport' initiative in equestrian sports and in 2011 was appointed to run a FEI integrity unit.
Despite this work, concerns have been expressed by the Swiss federation and others about the number of doped and injured horses in endurance racing.
Stevens said he had started to assemble a team of experts to examine the operations at Godolphin, Darley, the Dubai racing centre of Meydan, and the equine flight company Janah. Work is expected to continue into next year.
"Sheikh Mohammed is adamant that any evidence of violations of law or regulation in any jurisdiction should be shared with the appropriate authorities," he said.
The Swiss Equine Federation does not single out Sheikh Mohammed for criticism, but believes there are areas of equine sport which need urgent independent scrutiny - particularly endurance racing, which is popular in the United Arab Emirates.
"We need an independent committee which is looking at the causes and the grounds of all these difficulties," said Nordmann.
"The FEI should go to people perhaps outside the equestrian world. We in Switzerland are asking: 'Look at it, find solutions quick, take the problem really seriously or else the whole equestrian world will suffer and it will be a big chaos for everyone who is loving horses and pushing equestrian'."
Princess Haya's spokesman insisted her investigation, which Stevens is assisting, had no connection with the FEI or any other equine sport's ruling body.
"Sheikh Mohammed launched the inquiry on his own initiative and asked Princess Haya to lead it to improve and streamline the internal procedures and operations of his privately held equestrian organisation," he said.
Stevens said the inquiry would examine organisational structures, internal communication and veterinary practices.
In April, Sheikh Mohammed ordered a lockdown of the Moulton Paddock stables in Newmarket and a thorough internal inquiry after Al Zarooni admitted giving anabolic steroids to 15 horses. Another seven were later found to be doped.
The following month he criminalised the use of anabolic steroids in equine sport across the United Arab Emirates.
Charlie Appleby has since been appointed to succeed Al Zarooni as a second Newmarket trainer for Godolphin, alongside long-serving Saeed bin Suroor.
British Horseracing Authority officials have stressed the stable and airport seizures have no connection with horse racing.
On 3 May, the UK Border Force found products including vaccines and sedatives not authorised for use in Britain, which were wrongly labelled as 'horse tack', on a Dubai Royal Air Wing jet at Stansted.
More drugs, including illegal anaesthetics and anti-inflammatories, were seized by Defra's Veterinary Medicines Directorate from the endurance training base at Moorley Farm East, Newmarket, on 7 August.
"We will look into events surrounding the seizures at Stansted and Moorley Farm, including the chain of custody for the medications in question and their intended purpose," said Stevens in a statement.
"We will also look beyond those specific events for a wide-ranging assessment of veterinary procedures and practices to determine whether they are in support of horse welfare and in keeping with all applicable laws and regulations.
"Our primary focus is on preventing any future systemic failures. We will identify best practices and develop protocols and procedures to streamline and improve management and operations."