Arc: Japanese racing fans backing Orfevre and Kizuna at Longchamp

By Cornelius Lysaght
BBC horse racing correspondent
Last updated on .From the section Horse Racing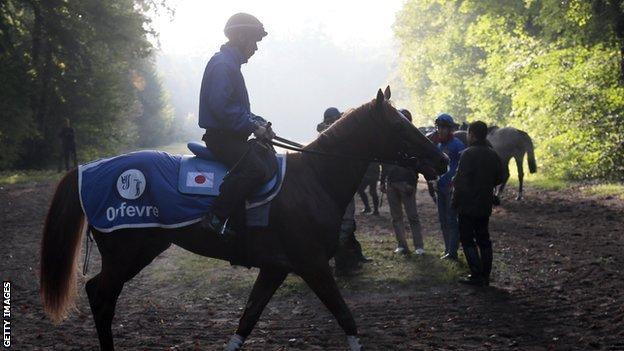 If at first you don't succeed…
For over four decades, Japan has been throwing darts at the Prix de l'Arc de Triomphe board, and though several have come agonisingly close, none has quite hit the bull's-eye.
In 2013, however, hopes are higher than ever that they can finally nail Europe's great autumn prize, and transfer the first prize of over £2.2m into Yen.
Orfevre, one of three Japanese second places over the years when narrowly defeated 12 months ago, and their Derby winner Kizuna, represent a vast, and ever-growing, racing industry.
Both won their warm-up races, on the Arc course at Longchamp in September, amid scenes of wild celebration rarely seen on the European Flat racing circuit.
Thousands of supporters are again due at the Paris track, so many in fact that Japanese-speaking guides are in place, and signs will be written in Japanese as well as French and English.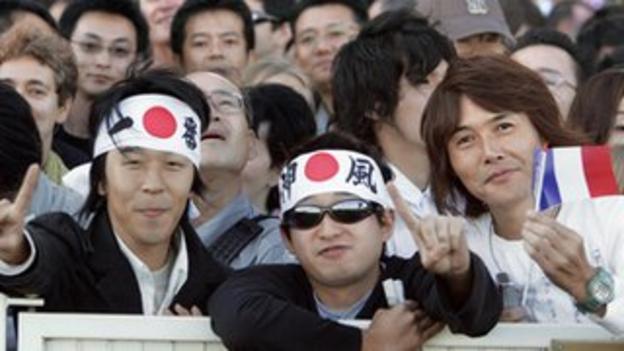 At home, theatres and cinemas are staging late-night openings for fans to watch the runners in live action.
"The two horses are very, very strong, so we're really excited." said Yuichi Goto, chief representative of the Japan Racing Association, based in London,
"It's a very big ambition for Japanese racing connections as well as for Japanese racing fans.
"We've had experience of three time finishing runner-up in the Arc, but we really hope they can win it for us at last.
"I think everybody thinks that the Arc is one of the most important races in the world, and we're the same, it's one of our big targets."
Goto anticipates Orfevre, favourite after winning the Prix Foy trial race for the second year running, will not repeat 'jinking' antics that cost him the 2012 race having shot to the lead.
"Unfortunately sometimes Orfevre shows his bad habits on the course," he said, "but I know the trainer [Yasutoshi Ikee] has been trying to improve the horse to make it better than last year.
"It's good that he ran straight when winning the Prix Foy this year, so I believe he's been much improved."
For his part, Ikee added: "Orfevre is mentally a little bit difficult to handle, but if he can keep that side of him under control, he can win."
Belgian Christophe Soumillon, looking for his third Arc win, again rides Orfevre, while Japanese jockey Yutaka Take - who has never enjoyed much luck at Longchamp - is on board Kizuna.
After a narrow Prix Niel win over Epsom Derby winner Ruler Of The World, Kizuna's trainer Shozo Sasaki threw down the gauntlet to potential rivals, declaring afterwards: "He was about 80%, so we will work to get the final 20% before the Arc."
Those closest to him believe the colt has "muscled up" well and is in the same sort of shape as for his Derby win.
Kizuna's level of support has grown not just because of his record, but also his name, meaning 'bonds'.
That's made him something of a symbol of the bonds between the Japanese people needed to get through the trauma of the country's devastating 2011 earthquake.
The looming presence of Kizuna and Orfevre is helping to ensure the 2013 Arc is seen as the most outstanding since Dancing Brave saw off top-drawer opponents in 1986.
The glittering line-up includes unbeaten three-year-old filly Treve, ridden by Thierry Jarnet in place of the injured Frankie Dettori.
In all, three Derby winners will run, with Intello (France) and Ruler Of The World (Epsom) also in the field.
As a further illustration of strength in depth, Al Kazeem, a three-time Group One winner and the big British hope, bats way down the betting order.
Recent rain has helped his cause but a wide, "car park" draw in the stalls (18/18) is a negative.
The determination of Japan may pay off this time. However, Orfevre's occasionally suspect temperament makes his odds seem ungenerous, and Kizuna looks the value shout.