Lingfield: £1m Good Friday fixture to be held at Surrey racecourse
Last updated on .From the section Horse Racing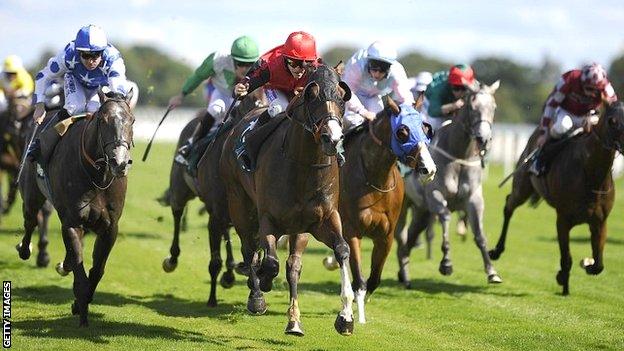 A historic £1m racing fixture will be held at Lingfield Park racecourse in Surrey on Good Friday next year.
However ARC, which owns 15 tracks, has upset some racing figures by only agreeing a one-year prize money deal.
Good Friday, which takes place on 18 April in 2014, is currently one of only four non-racing days in the UK.
"We welcome the ambitious plans for staging this valuable fixture at Lingfield," said British Horseracing Authority chief executive Paul Bittar.
He said it was "unfortunate" ARC had not signed up to the BHA's new three-year arrangement, which changes a racecourse's own contribution to prize money from a discretionary payment structure to a contractually-binding minimum amount.
"This agreement will deliver a substantial increase in ARC's [Arena Racing Company] contribution for 2014, an amount at least equal to what they would have made under a prize-money agreement, while also delivering certainty over plans for their all-weather programme and Good Friday," said Bittar.
ARC managing director Tony Kelly said its contribution to prize money rose by 18% in 2013 and will increase by a further 24% in 2014.
"We have exciting plans for the all-weather programme and the clarity we now have with regard to fixture numbers will enable us to fulfil our commitments to increasing prize-money," he added.
Kelly said a series of races throughout the winter, leading to six titles in categories ranging from sprint to marathon, would increase competition and might reduce the likelihood of jockeys being vulnerable to corruption.
"We have been told that the all-weather tends to attract more integrity issues than the average," said Kelly.
"If you increase the quality and the competitiveness, there may be a reduction in some of those integrity issues."
The Professional Jockeys' Association says many riders opposed the plans to hold racing on Good Friday, although a four-day break for National Hunt riders has since been announced.
ARC's plans have disappointed the Horsemen's Group, which represents common interests of British racehorse owners, trainers, jockeys, stable staff and thoroughbred breeders.
Chairman Philip Freedman said: "It must not be overlooked that over 70% of the Flat races run at ARC tracks this year will have offered total prize money of £4,000 or less, and much of the additional money they have committed will simply cover the price tag of the Good Friday fixture.
"In the light of their continued underinvestment in fixtures, it is hardly surprising that many horsemen harbour doubts that the £1m prize money will prove to be a long-term commitment."
The Racehorse Owners Association (ROA) indicated many of its 7,000 members would not react well to ARC's failure to join 30 courses who have signed up to the new prize money deal.
"I have no doubt that when faced with the choice of where to run our horses, owners and trainers will remember which racecourses have signed agreements with horsemen, and which have not," said president Rachel Hood.