Michael Owen: Ex-footballer explains racing ambition

By Cornelius Lysaght
BBC horse racing correspondent
Last updated on .From the section Horse Racing
For some players, life after football does not necessarily include getting their hands very dirty.
Not so Michael Owen it seems, judged by our guided tour of his racing stables deep in lush, rural Cheshire.
With assistant trainer Colin Gorman at the wheel of a 4x4, and various BBC personnel, cameras and microphones filling all seats, Owen took the vehicle's only other available space.
It was therefore from a precarious perch in the muddy boot that the former England striker showed us the gallops and pointed out other landmarks around the 170-acre site.
"I'm in the jockey crouch position," he said, "so this should be good training for me."
With a charity race in 2014 as a target, he's learning to ride under the tutelage of horse-mad wife Louise and their eldest of four children Gemma, 10, an accomplished rider.
The early stages of this education are taking place in relative privacy before Owen takes to the state-of-the-art gallops that snake through the training complex.
Such is the relaxed, no standing-on-ceremony nature of the relationship between the staff and their famous boss that everyone is relishing the prospect.
"I bet they do," laughed Owen. "But I own the place, so I'm going to pick what I ride, and make sure it's one that's quite quiet and not going to throw me off.
"I think it'd be really exciting to take part in a race - I watch it all the time on the telly - and hopefully make some money for charity."
It was racing on the TV and helping to pick horses for his father Terry's Saturday accumulator bets that ignited a passion for the world in which he's now a high-profile player.
Later, with a footballer's wage in his back pocket, racehorse ownership perhaps inevitably followed and one of those early horses, Treble Heights, is mother of current star Brown Panther.
So named because he moves like a panther and is brown, the colt took this season's Goodwood Cup, but misses Qipco British Champions day at Ascot in order to take part in the Melbourne Cup in Australia.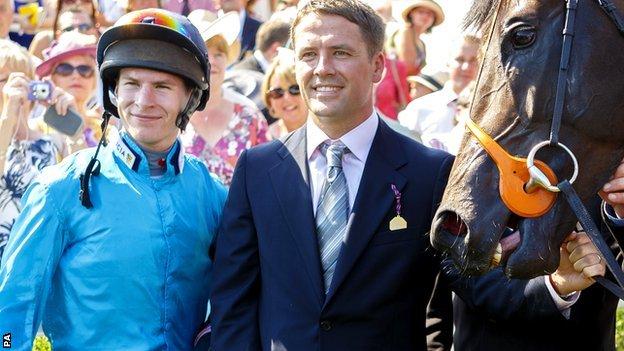 He is one of nearly 100 horses at Manor House stables, run by up-and-coming trainer Tom Dascombe, and owned by Owen in partnership with businessman Andrew Black.
Now out of the boot, Owen positively glows with pride as he shows off the stables - with room for more - the swimming pool and the veterinary centre.
And, having drawn on his own experience of footballers' muscles recovering with the help of vibrating panels [which can help boost blood flow and bone density], an equine version has also been installed.
It has to be said the whole set-up looks pretty good, but Owen - who has five horses himself, with the remainder trained for other owners - has ambitious plans for further growth.
The 33-year-old told me: "I want to take this place to the next notch again. I think everyone who comes here is pleasantly surprised by the place, and how far we've come in a short period of time.
"The idea is to keep cracking on: more horses, more quality of horses, and becoming bigger and better and competing in the biggest races around the world on a consistent basis.
"This place is about winning. We don't just want to take part, and that's why you have the drive and ambition to succeed."
Because Brown Panther is off down under, success on Champions Day, a showcase for British racing for which Owen is ambassador, will not be happening this time around.
A bit of a pity maybe, but if we're talking showcasing, imagine this: what rewards would the sport reap if a footballing legend lined up as a jockey in a charity race, and maybe even won it?
I suspect the answer's quite literally incalculable.