Denman's life 'touch and go' after infection, says owner
Last updated on .From the section Horse Racing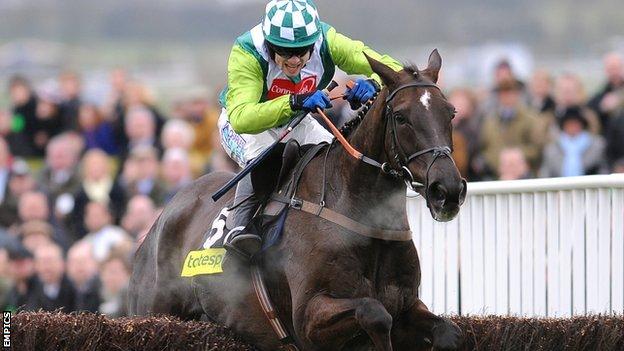 Retired Cheltenham Gold Cup winner Denman has spent the last five months in veterinary hospital after contracting a potentially fatal infection, owner Paul Barber has said.
The 13-year-old gelding, who was retired in 2011, was being treated in Newmarket for an infection in the lower part of his leg.
And Barber admitted it was "touch and go" whether he would survive.
"I can only pray and hope he'll make a full recovery," he told BBC Somerset.
"He got an infection in the bone and once we'd cured the bone problem, he then had a problem with his blood.
"It was a very worrying affair. The veterinary hospital at Newmarket told me it was going to be touch and go.
"But he is making head way and is improving everyday. I can only hope that, for everyone who loves Denman, he makes it to the other end."
Following his victory in 2008, Denman finished second in three successive Gold Cups and became well known for his battles with Paul Nicholls' stable-mate, Kauto Star.
Denman was retired after he suffered an injury during his preparations for the Lexus Chase at Leopardstown.
Having been released from hospital, he has returned home to Charlotte Alexander's near Cheltenham. where he has been a team chaser and hunter since last year.
Barber has visited Denman during his recovery and has already noticed an improvement in his health.
"When I went to see him the other day we had to have him in a cage so he couldn't gallop anywhere," he added.
"Now he's out of the cage and I'd be very, very disappointed if he doesn't make a good recovery. I'm sure he's going to be back to loving life again."