Kauto Star: One year on - from jump racing to dressage
Last updated on .From the section Horse Racing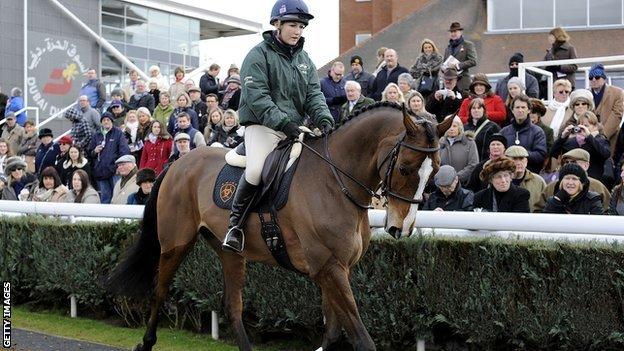 A year after his retirement from racing, the record-breaking steeplechaser Kauto Star is relaxed, happy and thriving in his new dressage career.
From soaring over fences at 30mph, the five-time King George VI Chase and dual Cheltenham Gold Cup winner, is leading life at a more sedate pace.
Owner Clive Smith believes the 13-year-old, now stabled with eventing rider Laura Collett, could compete at a dressage event for the first time early in 2014.
"I think we will be doing something next spring," said Smith, 71.
"Kauto Star is doing well, he's enjoying it. I think he's really having a good time - he's very well looked after and is active every day."
The French-bred gelding is heavier than during his racing career - weighing in now at nearer 550kg (87 stone) rather than his 530kg (83 stone) racing weight.
"He's put on a little bit of weight, he's fit as a fiddle and looks magnificent," Smith added.
After Kauto Star was officially retired from racing on 31 October 2012, Smith wanted to give him a fresh interest.
He consulted Great Britain's Olympic eventing coach Yogi Breisner and sent the horse to Collett's Wiltshire stables in December, but the move proved controversial.
Some critics suggested dressage was demeaning for the champion racehorse, while others felt he should have stayed at the Somerset stables of seven-time champion trainer Paul Nicholls, where he had been based for eight years.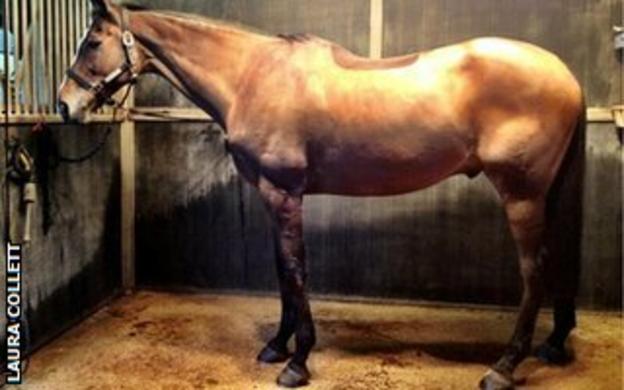 "There's not one ounce of doubt about what I've done," insisted his owner.
"When I go racing, I meet hundreds of people all over the place. They all ask me about Kauto Star, and not one person has said it was the wrong move to go into dressage.
"There are not many things a retired racehorse can do, and this is a nice, relaxed sport to aim at."
Collett has slowly taught Kauto Star new moves and is in no rush for him to compete after well-received exhibition displays at Barbury and Burghley horse trials.
"People jump to conclusions and get the wrong idea," said the rider, who is now recovered after a fall on another horse left her in a coma earlier this year.
"It gives him something to do, keeps him active, and gives him a second life rather than being stood in a field.
"He's done some demonstrations and people seem to appreciate being able to see an amazing horse. Hopefully, it's brought people's attention to the fact there is life after racing."
Kauto Star looks different. His shape has changed with different muscles used to perform dressage.
"He's a lot heavier than he was because he's not the the fit racing machine he used to be. He's not on the same high-energy food as before," said Collett, 23.
"He now works in a rounder way, whereas in jump racing they need more muscles underneath, pushing them upwards.
"You have to let them build up the right muscles and carry themselves in a completely different way. He's had to learn there is such a thing as cantering, rather than galloping.
"He's very intelligent - you don't have to teach him too many times. He remembers things and they lodge in his brain, which is great.
"Kauto Star definitely loves the crowd and attention, and is a bit of a show-off. But he has nothing to prove and, from the beginning, has been very easy - a lovely horse to deal with. He's taken to it all well."
Smith said his retired two-time Queen Mother Champion Chase winner Master Minded is also enjoying a happy retirement from racing, at a farm near Newmarket.
"He's being very well looked after following a serious leg injury," said Smith, who funds the upkeep of both horses.
Meanwhile, the owner who enjoyed 23 victories with one of racing's best-known equine stars, has no extravagant plans for Kauto Star's future.
"He will go to a show and do a test next year. We are not going to mark time or do anything special with him," he said.
"He's not an Olympic dressage horse - he's given them all a 10-year head start.
"Hopefully he can do something quite worthwhile. He loves being the centre of attention and I could not be more pleased with him. "